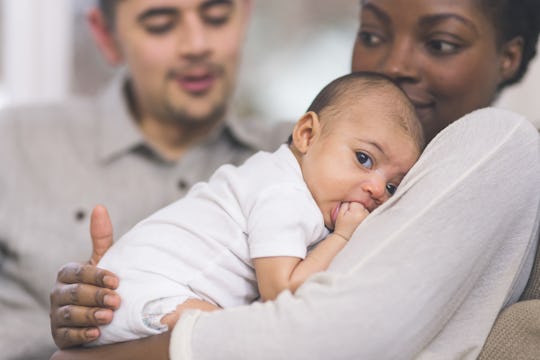 FatCamera/E+/Getty Images
12 Weeks, 6 Months, 9 Months: Where Democratic Candidates Stand On Paid Family Leave
Finally, the 2020 Democratic debates touched on a subject that impacts parents across the country: paid parental leave. Moderators behind Wednesday's fifth Democratic presidential primary debate questioned candidates about their plans to address both the nation's lack of a paid family leave policy and the skyrocketing costs of child care. So, just where do Democratic candidates stand on paid family leave?
In the midst of discussing the House impeachment inquiry and the high cost of housing, one of Wednesday's four female debate moderators turned the discussion to child care and paid family leave. "No parent in the United States is federally guaranteed a single day of paid leave when they have a new baby. A number of you on stage tonight have plans to address this," moderator and Washington Post reporter Ashley Parker said, before asking Sens. Kamala Harris and Amy Klobuchar to dig into the differences between their paid family leave proposals.
While Wednesday certainly wasn't the first time a 2020 Democratic candidate has broached the subject of paid parental leave before (many have outlined their position on the subject as part of their campaigns), it was the first time the issue has been addressed during a presidential debate. However, only Harris, Klobuchar, and entrepreneur Andrew Yang were able to speak on the subject Wednesday night.
So, what about the rest of the 2020 pool? Here's where the Democratic candidates stand on the issue of paid family leave: