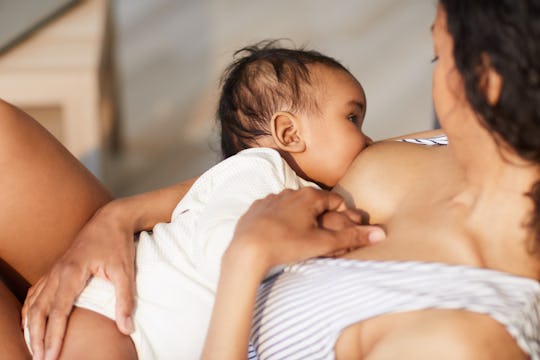 Shutterstock
How 8 Presidential Hopefuls Have Advocated For Breastfeeding Rights
While the health benefits of breastfeeding are well known, many mothers continue to face stigma and obstacles when it comes to breastfeeding in public, pumping at work, or simply getting the support they need. Even more troublesome, breastfeeding rights remain a largely under-discussed issue, especially when it comes to political elections. And so, as the 2020 presidential election slides into Breastfeeding Awareness Month, let's take a look at how presidential candidates have advocated for breastfeeding rights.
According to the U.S. Department of Health & Human Services, federal law currently requires that all employees covered by Section 7 of the Fair Labor Standards Act (FLSA) have access to both the time needed to nurse or pump as well as a private space — that is not a bathroom — in which to do so. But despite the law (which it's important to note does not cover all employees), a number of working women have continued to allege and report experiencing breastfeeding discrimination on the job.
What's more, a study published earlier this year found that two-thirds of employees who'd filed breastfeeding discrimination cases ended up losing their jobs in the end as a result of either being fired or forced to resign, as Forbes reported. That same study also found that three-quarters of employees alleging discrimination suffered an economic penalty of some kind, such as a forced cut in hours.
That's why it's important to have elected officials who are willing to advocate not only for families and working mothers, but for breastfeeding rights specifically. Here's how some 2020 candidates, in alphabetical order, have advocated for breastfeeding rights in the past.