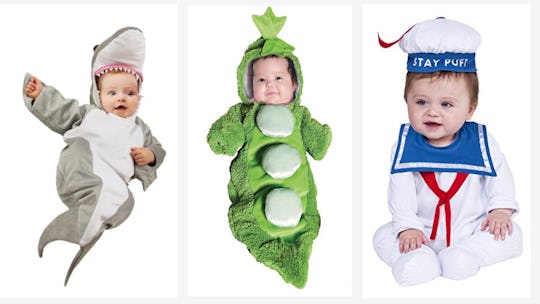 *Squeal* These 21 Halloween Costumes For Newborns Are Just The Cutest
Babies might be way too young for Halloween candy, but they're not too young to rock an adorable costume. If you've got a baby celebrating their first Halloween this year, get ready to drool over some of the cutest Halloween costumes for newborns — because they've got just as many amazing options as the big kids.
Halloween really is a day for kids of all ages. It doesn't matter if your baby is so young that they're doing nothing but eating, sleeping, and pooping. These costumes will still work just fine, with no walking, crawling, or even holding their heads up required.
Whether you're planning to trick-or-treat or just staying home and snapping a million pictures for your Instagram, baby costumes are seriously just the best. I'm honestly finding it hard to pick just one outfit apiece for my kids this year, because there are just so many irresistably cute ones to choose from. By the time Halloween is actually here they just might end up with a full week's worth of costume changes. But hey, at least they can be re-used for dress-up play time.
Here are 21 super cute costume ideas for the littlest trick-or-treaters. And don't feel guilty if you end up snagging more than one.