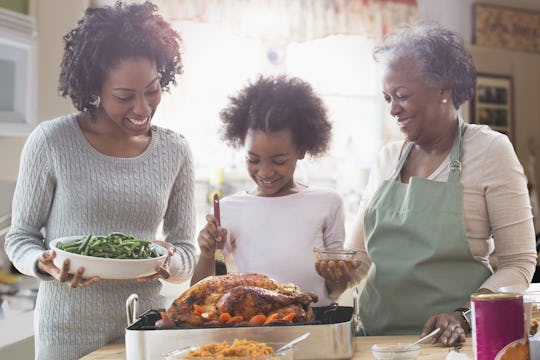 Amble Design/Shutterstock
21 Last-Minute Thanksgiving Hacks That Will Make Your Dinner The Best One Yet
Thanksgiving is practically here and I couldn't be happier. Though I'm always looking forward to having my mom's delicious cooking, this year she's determined to get me in the kitchen to help with the cooking. Needless to say, I'm not too excited about that part. Because I'm going to have to step up to the stove, my list of last-minute Thanksgiving hacks is growing quicker than ever.
When it comes to cooking, my mom is easily one of the greatest of all time. Because of that, I'll always feel like food tastes so much better when she makes it. Since I'm kind of forced into this whole cooking thing this year though, I know there are a few things that can make it so much easier on me. From the smallest thing like cutting my veggies in advance to something a little more intense like how to create my own roasting rack, having my set of hacks (that I probably won't let my mom know I have) will be super helpful to making this the most epic Thanksgiving yet.
If you'd like to get in on these hacks, too, check out these 21 tips and tricks that could definitely help amp up your Thanksgiving cooking this year.