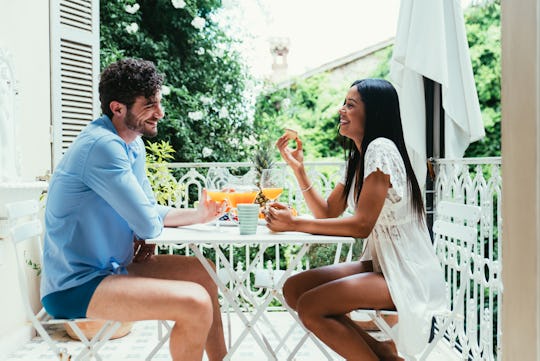 Fabio Formaggio / EyeEm/EyeEm/Getty Images
21 Little Signs A New Relationship Will Last
When I was first told that love and war were synonymous, I never quite understood why. But as time passed and I became tainted by heartbreak, I realized that love can actually be a battlefield if not done right. Since I don't think I ever properly healed from being hurt so many times, I can admit to looking for every bad quality when dating someone new instead of noticing the little signs a new relationship will last. As a result, I end up unintentionally sabotaging potential relationships and try to brush it off as the guy just not being "the one."
Although some of the reasons why I've ended relationships are valid, I can honestly say that paying attention to the wrong qualities has been the main culprit of their ultimate demise. In an interview with Romper, online dating specialist and chief editor of Flirt.com, Alex Reddle said that those in new relationships should only be worried about the four spheres — physical, emotional, intellectual, and shared activities — to make relationships last longterm. She explains that you should be able to have great sex (physical), feel safe (emotional), have thought-provoking conversations (intellectual), and enjoy traveling together (shared activities) if you're looking for lasting success in your relationship. Though I'm aware that it may take some time to change my negative thinking, now that I know what to look for, I'm dedicated to searching for these aspects in my next partner.
Need a little more info on how to know if your new relationship will be able to stand the test of time? Here are 21 signs that you should be looking for.