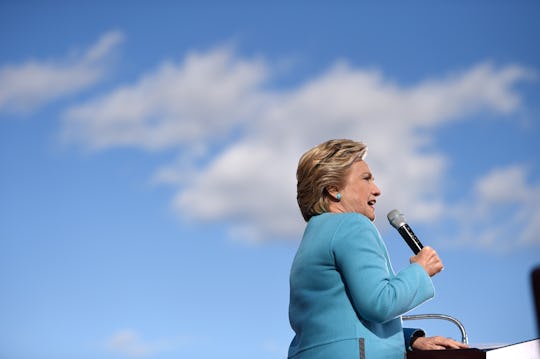 ROBYN BECK/AFP/Getty Images
21 Powerful Hillary Clinton Quotes That Have Nothing To Do With Politics
There's no denying the power of Democratic presidential nominee Hillary Clinton. After serving as the first lady for eight years, the Chicago-born lawyer stayed in the political spotlight, serving as a U.S. senator from 2001 to 2009 and as Secretary of State from 2009 to 2013. Now, as election night draws near her spot in the Oval Office becomes more likely, you ay be on the hunt for inspiring Hillary Clinton quotes to share on social media if (and, hopefully, when) she is named the 45th president of the United States and the first female president of our country.
Early on in this election, when Ben Carson was basically falling asleep during the Republican debates, I wasn't #withher. Some would say that I was feeling the Bern pretty hard. Even now, as Nov. 8 approaches, I can't say that I am 100 percent supportive of Clinton and her policies. But I can say with 100 percent certainty that she is inspiring. From her creation of the Children's Health Insurance Program in 1997, to the work she's done in securing women's rights, to the composure she's shown during the current campaign, she has proven to be quite the boss and someone who is worth of admiration, regardless of her policies.
So whether you're looking for words of wisdom to share on election night or to honor HRC's birthday (which, by the way, is Oct. 26), here are some inspirational Hillary Clinton quotes that members of all political parties will appreciate.