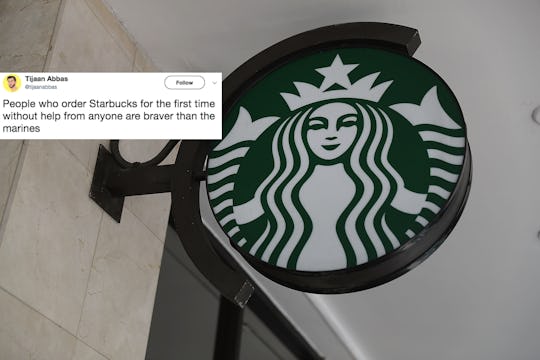 Joe Raedle/Getty Images News/Getty Images, @tijaanabbas on Twitter
23 Hilarious Tweets About Your Starbucks Run, Where Anything Can Happen
Love it or hate it, Starbucks is pretty much impossible to escape in many areas. From drive-throughs in the suburbs to busy shops on every city block, the ubiquitous coffee chain is all over the place. That's why these hilarious tweets about going to Starbucks are so relatable to many people. Pretty much everyone has yielded to the siren song of that coffee-slinging mermaid at least once or twice.
Starbucks has become a global phenomenon since its humble start in 1971 as a single shop in Seattle's Pike Place Market. As of June 2015, Starbucks has 22,519 stores in locations all over the world, according to the Starbucks website. The company has turned drinks like the Frappuccino into household names.
But like any popular major company, Starbucks has its share of detractors as well. Jokes about its overly complicated drink orders, as well as the company's unique words for drink sizes, have been around for years. Seriously, it feels like everyone and their dog has made a joke about grande lattes.
So whether you hit up the Starbucks drive-through every morning — or you find the very idea of a flan-flavored latte ridiculous — these fresh tweets about Starbucks will make you crack up. It's some new jokes about an old favorite. Read on to see what the Twitterverse makes of this coffee-serving giant.