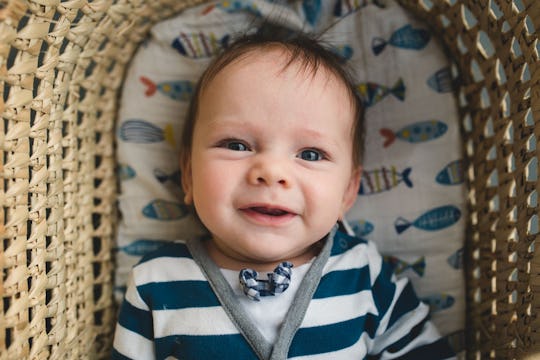 Courtney Rust/Stocksy
25 Baby Names For Air Signs, That Will Keep Them Totally Grounded
Choosing the perfect baby name can seem like an impossible task. When there are thousands upon thousands to pick from, how do you even begin to narrow it down? Well, parents who never leave the house without checking their horoscope first might want to look to the zodiac for inspiration. There are so many fun and unique air sign baby names that could be a perfect fit for your little one.
The three air signs are Libra, Aquarius, and Gemini. You can give a nod to your child's astrological element by choosing a name linked to air or wind. Astrology.com noted that the air signs are all highly intellectual, so names with a studious meaning could be apt. The individuals signs offer tons of inspiration as well. Names linked to water are totally suitable for Aquarius kids, since its symbol is the water bearer, according to Cafe Astrology. Names linked to justice could be perfect for little Libras since its symbol is the scales of justice, according to Star Sign Style. And Astrostyle noted that Gemini babies are represented by the twins, so you can look for names with a "double" meaning.
Here are 25 names to consider for your air baby.