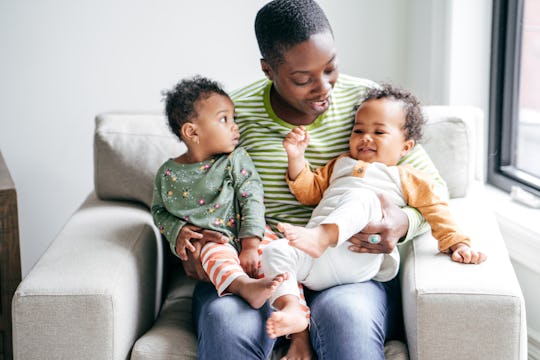 kate_sept2004/E+/Getty Images
Here Are 25 Baby Names For Twins That Pair Perfectly With Each Other
Deciding on a name for your child is hard enough as it is, so if you're expecting multiples it can seem downright impossible. Parents faced with choosing the perfect baby names for twins have a whole list of things they may want to consider, like whether or not they pair well together, if they each represent something meaningful, or if they're unique enough to stand out. It's the first of many tasks twin-parents have to do times two.
There are a lot of different factors that come into making the perfect baby name, and there's often a bit more to a final choice beyond just liking the name. Maybe it's a character from a favorite book, a family member's name, or even a place that has special meaning. Not to mention, if the baby is coming into a home with two parents, they both have to like and agree on a name. It's tough to decide on a name that will follow a baby for its entire life, which is why a lot of babies don't have a name by the time they're born, despite their parents having ample time to mull over their choices.
For parents of multiples, everything is a little more amplified. Whether it's figuring out where to put two cribs, determining which double stroller is the easiest to use, or budgeting for two babies in daycare, there's a lot on your plates. So, if you haven't been able to research names for your bundles of joy, here are a few ideas to help you get started.