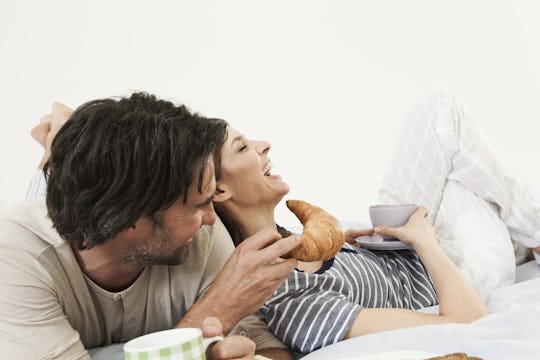 Westend61 Premium/Fotolia
25 Easy Morning Rituals To Make Your Relationship Stronger
Whether you're a morning person or dread getting out of bed, starting the day can be a lot better when you do it next to another person. In the midst of the morning rush, taking time to connect with your significant other may not seem that simple. But there are many easy morning rituals to make your relationship stronger that are worth the thoughtfulness, time, and commitment you put into them. They show your partner you care and can make the morning a more pleasant time.
None of these mandate you rise before dawn with the diligence for details of Steve Jobs. But they do suggest that you rethink the meaning of time with your partner. Even if you're the biggest morning grump, the start of a new day is brimming with possibilities. (Discloser: I'm a morning person.)
According to Psychology Today, studies indicate that negotiating how to spend time with your partner is one of the fundamental stages of a relationship. After all, you've got a lot going on, and waking up is a reminder of all the things you've got to do, which can bring on stress. Rituals can alleviate stress, according to a new study highlighted in Scientific American. Simple rituals, the study showed, can boost your confidence, quell nerves, and help you take on the day. So, why not bring your partner into the fold, and try the following morning rituals that can help make your relationship stronger.