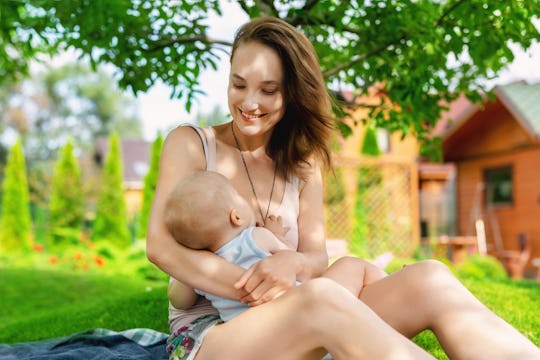 Shutterstock
These 26 Hilarious Breastfeeding Memes Go Out To All The Nursing Moms This Month
Whether you just started breastfeeding, or you've been doing it for years, there is one thing we know for sure: with breastfeeding comes some pretty hilarious moments. The leaking, the biting, the nipple chafing... you have to laugh so that you don't cry at all that you have to endure. That's why these hilarious breastfeeding memes will make you LOL until milk comes out of your you-know-what.
From the trauma of weaning to the heartache of spilling your breastmilk to the embarrassment you feel when your child tries to grab another woman's boobs, there are so many specific experiences that only breastfeeding mamas can relate to. Honestly, it's pretty mind-boggling how impressive our bodies are but that doesn't mean that milk coming out our bodies is kind of strange at the same time.
The point is, our bodies are wonderlands (cue John Mayer) and sometimes, weird things happen. For the sake of your sanity, just roll with it and laugh. And when you think that you're the only person experiencing certain things, trust... you are not. There are many fellow breastfeeding moms out there who get it.
So at your next mommy and baby meet up, pull out this list of hilarious breastfeeding memes. It'll get a good laugh, and open the floor up for some pretty funny breastfeeding stories, I'm sure.
This article was originally published on