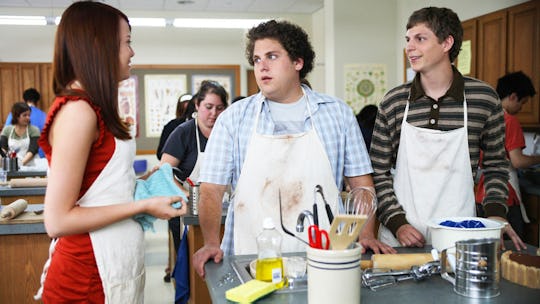 Sony Pictures
29 Laugh Out Loud Movies On Netflix
What's a better way to unwind from a long day or kick-start your weekend than with a funny flick? These days, you can save your time (and money) by streaming one of the many laugh-until-you-cry films. And luckily, there are plenty of hilarious movies on Netflix for when you need a good belly laugh session and don't want to leave the couch.
Although there are a ton of tearjerkers, action-packed movies, and horror films, sometimes you're just in the mood for a really good comedy. No fuss, no frills. After all, the best cure for a stressful day full of meeting tight deadlines or running around after the kids is a good whole-hearted giggle. Whether you're in the mood for a comedy, a dramatic comedy, or rom-com, there's a flick pick on Netflix that's the perfect fit your movie taste. Actors ranging from Eddie Murphy to Olivia Wilde will make your throw your head back in a gasping-for-air kind of laugh —the best kind.
So, be sure to make a pit-stop in the candy and snack aisle before kicking back and streaming one of the best comedies around (or several, hello marathon). From Kate Hudson in How to Lose a Guy in 10 Days to Jon Heder in The Benchwarmers, there is an endless amount of comedies that'll leave you in tears. Of course the best kind of tears — happy tears.