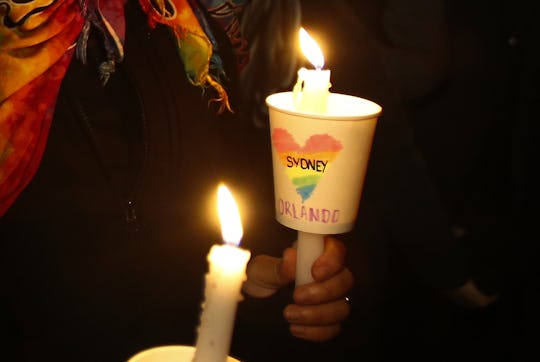 Daniel Munoz/Getty Images News/Getty Images
29 Vigils For Orlando Shooting Victims To Ensure Their Memory Is Celebrated
Left with little to do but come together to try to make sense of what would drive a man into a nightclub on Saturday night to open fire on innocent people, mourners across the world are holding events to remember the victims from the Pulse nightclub, their friends, family, and loved ones. Here are 29 vigils for Orlando shooting victims where mourners can come together to remember those who were lost.
Vigils are being held not just across the U.S., but across the entire world. From Paris to Toronto and back to Orlando, people are gathering to find some comfort in being surrounded by friends and neighbors and are taking the time to remind one another that love will always win over hate.
Many of the vigils are being coordinated by members of the LGBTQ community, which was supposed to be in the midst of Pride month celebrations. Instead of reveling in how far the LGBTQ community has come in the fight for civil rights, we are all having to face the harsh reality of how much work there is yet to be done.
But besides shattering the LGBTQ community, this crime is a stark reminder for millions of Americans, and mothers, particularly, who have lost those they love to gun violence. Moms from Mom's Demand Action, a coordinated gun safety advocacy effort on behalf of mothers all over the country, and Everytown for Gun Safety are showing up in force to mourn the loss in the Pulse nightclub and demand reforms.
Here is a list of upcoming events being compiled by #WeAreOrlando if you'd like to find a vigil for Orlando shooting victims or add an event listing of your own. For those who live in Orlando, police are asking for mourners to postpone events that could draw already stretched police resources away from the scene at Pulse nightclub.
For the wounded victims from the Pulse nightclub, these vigils will hopefully send the message that they are not alone and that the world prays for their recovery.
Take a look at these vigils being held all over the world in honor and remembrance of the Orlando shooting victims to serve as a reminder of the lives that were so tragically taken.
1. New York City: 6/13 at 7 p.m. at The Stonewall Inn
2. Los Angeles: 6/13 at 7 p.m. at Los Angeles City Hall
3. Nevada City, California: 6 p.m. at Robinson Plaza
Candlelight vigil for Orlando victims at Robinson Plaza, at the bottom of Commerical St.
4. San Diego, California: 6/13 at 6:30 p.m. at The Center
5. San Jose, California: 6/13 at 6 p.m. at City Hall Plaza
Unity vigil for Orlando victims to be held at San Jose City Hall Plaza.
6. Walnut Creek, California: 6:30 p.m. at Club 1220
7. Montreal, Canada: 6/13 at 7 p.m. at Parc De L'espoir
8. Denver, Colorado: 6/13 at 8 p.m. at Cheeseman Park
9. Fort Collins, Colorado: 6/13 at 8 p.m., Old Town Square
10. Enfield, Connecticut: 6/13 at 8 p.m. at Enfield Town Green
Candlelight vigil for those lost in Orlando.
11. New Haven, Connecticut: 6/13 at 6 p.m. at United Church on the Green
12. Palm Beach, Florida: 6/13 at 8 p.m. at Cultural Plaza
Vigil in honor of Pulse Orlando
13. Sarasota, Florida: 6/13 at 8 p.m. at Harvey Milk Festival
14. Tampa, Florida: 6/13 at 7 p.m. at 1430 E 7th Ave.
15. Atlanta, Georgia: 6/14 at 7 p.m. at Center for Civil and Human Rights
Vigil and community gathering to remember Orlando victims.
16. Chicago, Illinois: 6/13 at 7 p.m. at Center on Halsted Community Center
17. Indianapolis, Indiana: 6/13 8:30 p.m. at Old National Centre
18. Des Moines, Iowa: 6/14 at 6:30 p.m. at Pappajohn Sculpture Park
"Love is Love is Love" Gathering To Remember
19. Bangor, Maine: 6/13 at 8:30 p.m. at City Hall
20. Baltimore, Maryland: 6/13 at 7 p.m. at The Ynot Lot
21. Detroit, Michigan: 6/14 at 6 p.m. at Clark Park
22. Athens, Ohio: 6/13 at 6 p.m. at College Green Civil War Monument
23. Philadelphia, Pennsylvania: 6/13 at 6:30 p.m. at Philadelphia City Hall
24. Pittsburgh, Pennsylvania: 6/13 at 8 p.m. at Pittsburgh City-County Building
25. Houston, Texas: 6/13 at 6 p.m. at The Montrose Center
26. Salt Lake City, Utah: 6/13 at 7 p.m. at Salt Lake City and County Building
27. Richmond, Virginia: 6/13 at 7 p.m. at St. Mark Roman Catholic Church
28. Washington, D.C.: 6/13 at 7:30 p.m. at Dupont Circle Fountain
29. Milwaukee, Wisconsin: 6/13 at 7 p.m. at Milwaukee City Hall
No matter where you are, attending a vigil for the Orlando victims will help to show that the LGBT community is not alone, and a crime against them is also a crime against all who love and support them.