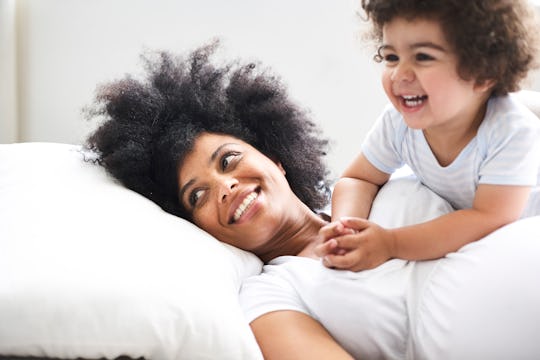 Sandra Seckinger/Offset
3 Clean Perfumes You Can Feel Good About During & After Pregnancy
There's something about pregnancy that can flip a switch and heighten your awareness of literally every decision you make on a daily basis (hmm, wonder why???). That's especially true of your beauty routine. In fact, it's become more common than ever to take an interest in product ingredients, whether you're a mom, a mom-to-be, or neither.
In recent years, the clean beauty world has been hard at work formulating memory-invoking scents made without certain ingredients you may not want during and after pregnancy.
Sephora has become a veritable pioneer in the clean fragrance space, taking the initiative to seek out groundbreaking niche brands, introduce them to a larger audience, and ultimately grow the clean fragrance space. Helpfully noted by their Clean at Sephora seal, these brands are unrecognizable from their predecessors. Their scents are thoughtful, sophisticated, and very often founded by moms! Below are three in particular worth spotlighting (and shopping), so you can spritz all over with a peace of mind.
SKYLAR in Isle
When mom Cat Chen discovered her daughter was allergic to fragrances, it led her to found SKYLAR. It's a clean and hypoallergenic line based on safe synthetics and naturally-derived ingredients. And with dual-purpose packaging and recyclable packing materials, it does its part for the planet as well. We especially love Isle. With warm notes of spiced sandalwood and subtle citrus, it's a beachy scent that works everywhere — and might have you booking a vacation, stat.
Ellis Brooklyn in Myth
New York Times writer and mom of two Bee Shapiro developed Ellis Brooklyn when she was pregnant with — you guessed it — her first daughter, Ellis. The line features complex, unique scents that tell a layered story, and the clean ingredients are all sustainably sourced. The only drawback? It can be tough to pick a favorite. Sexy, date night-ready Myth is a great place to start. It's packed with florals like jasmine petals, as well as warm musks and white cedarwood — so, yes, you should probably book the babysitter now.
By Rosie Jane in Leila Lou
You can't go wrong with this bestseller that also happens to be named after founder Rosie Jane Johnston's oldest daughter, Leila Lou. It features fresh notes of pear, jasmine, and cut grass to make every day feel like spring. Mom and celebrity makeup artist Rosie Jane created By Rosie Jane with essential oils, absolutes, and nature identicals, which makes it a great clean option. The line's four season-inspired fragrances are home grown in California. And if you needed to do a good deed for the day, its eco-friendly packaging might do the trick (they're recyclable, biodegradable, and compostable).
It doesn't end there. Fragrance is personal, so if you want to explore more clean options, the Sephora Favorites Clean Fragrance Sampler makes it easy to test drive and discover your signature. The set includes samples of seven different clean fragrance brands (including all of the above) and a certificate to redeem a full-size bottle of your choice.
This post is sponsored by Sephora.
Design: Allison Gore/BDG