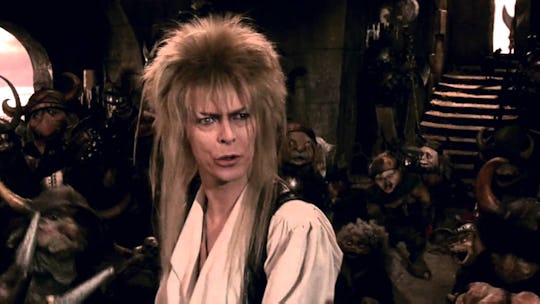 Lucasfilm
3 David Bowie Costumes That'll Honor The Late Rocker This Halloween
The world lost one of its most theatric and enigmatic musicians with the death of David Bowie in January 2016. Since then, people have honored the legend by covering his songs, creating fan art, and even donning Bowie-inspired attire. And if you're looking for an otherworldly getup this holiday, David Bowie costumes are the perfect way to honor the man and make you feel like a hero.
You can use these costume guides as a jumping-off point for your own look, and you're free to make substitutions based on your preferences and comfort level with giant red boots. The makeup looks in particular can get intricate quickly. But if you're already a beauty guru, you probably have enough products on hand to recreate the majority of these styles. (Then again, it's cool if you want to use Halloween as an excuse for a new palette.)
Whether you opt for a full-on glam rock look or something straight out of a Jim Henson film, these Bowie costumes will help you feel fabulous and full of swagger all night long. With his avant-garde, gender-bendy style, Bowie was eons ahead of his time, and he's a fitting muse for any costume this year. Make this the best year yet with a little help from the glam-god himself.