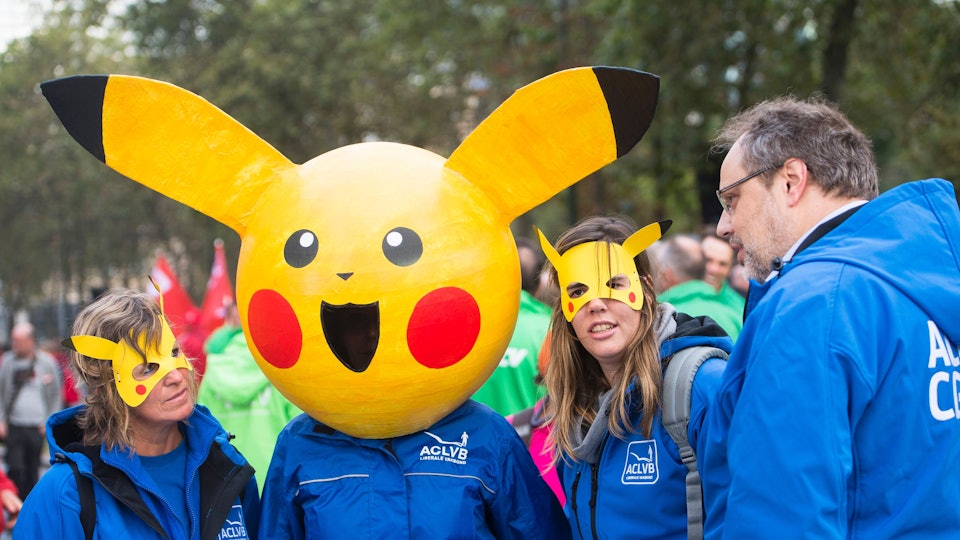 LAURIE DIEFFEMBACQ/AFP/Getty Images
3 Easy Pikachu Costumes For The Whole Family
This year's heightened epidemic of the Pokémon brand was very much appreciated for those who grew up in the '90s and early 2000s. Not only was a way for people to relive our childhood, but it also opened the door to being able to bond with this new generation of children by playing Pokémon Go. With Halloween right around the corner, what better way to show your love for the beloved game than to have some easy Pikachu costumes on hand to choose from?
Though everyone is stuck on finding rare Pokémon while playing the game, everyone knows that you can't be the best trainer out there if you haven't captured your the tiny yellow creature. Pikachu, who grew to be the star of the franchise, is the perfect character for you or your child to be this Halloween because it's one of the easiest to do. Not to mention it's appealing to any person of any age or gender.
Whether you have a little boy or girl or just want to do it yourself, dressing up as Pikachu this year could be a great option. If you're not into buying costumes, these three easy, DIY costume ideas should be added to your list.
1

For The Baby
For this first Pikachu costume option, get a yellow onesie ($5), yellow tights ($10), and a Pikachu beanie ($10). Or to make it even easier, you can purchase a Pikachu onesie ($8).
2

For The Kid
Want to nail this look for your little girl or boy? Try putting on a pair of yellow pants ($20), a yellow t-shirt ($6), and setting it off with your set of Pikachu ears and tail ($14). Don't forget the red face paint ($7) for the cheeks. If pants are not a favorite, you can also try a yellow tutu ($10), yellow tank top ($4), and black tights ($4) instead.
3

For The Adult
Want to make Pikachu even cuter? Choose a yellow dress ($8), a yellow cardigan ($16), yellow tights ($3), a set Pikachu ears and tail ($14), and red face paint ($7).