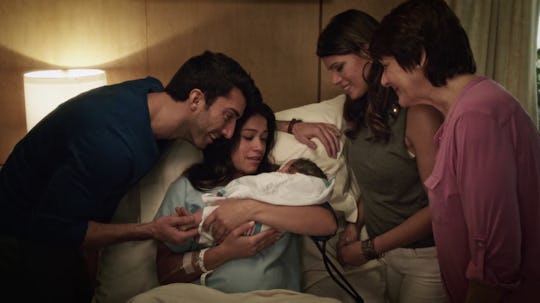 3 'Jane The Virgin' Halloween Costumes To Create With Your Kid This Year
If you're a fan of the TV show Jane the Virgin, then you are far from alone. The funny, heartfelt send-up of an American telenovela has captured the hearts of viewers around the world. You just can't help but root for the strong women of the Villanueva family (and even Rogelio, too). So if you and your little one are looking for a themed costume, why not go for Jane the Virgin Halloween costumes to do with your kid? It's sure to be an original look, and you'll delight any fans of the show who happen to spot you.
If you have a very young baby, then this is probably one of the easiest looks you can manage. Although the show relies on a bit of magical realism and fantasy to enhance its storytelling, its portrayal of motherhood is pretty frank. (Just think about the episode in which all of the characters try to convince an overworked Jane to put the baby down for a moment and shower.) Whether you want to channel Jane, Alba, or Xo, you're sure to come up with a fun and unique look for this Halloween. Hopefully, your holiday will go off without a hitch and create a memorable evening for your own family. Just watch out for the sudden appearance of any long-lost twins.