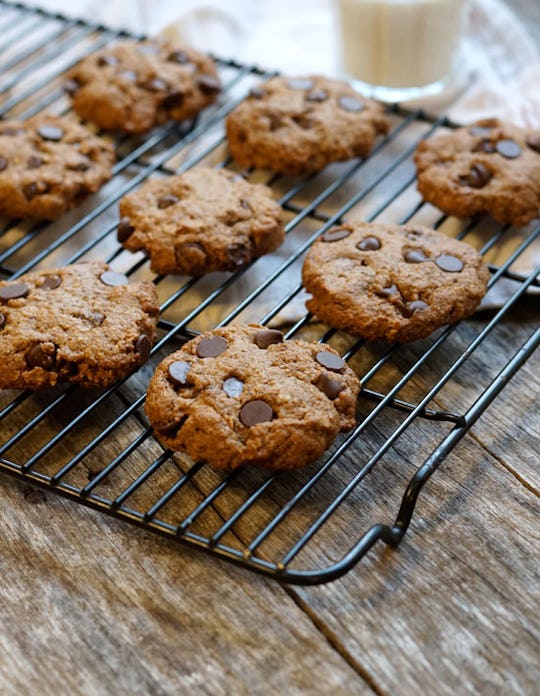 3 Lactation Cookies You Can Make Yourself, Because Increased Milk Supply + Baked Goods = Happiness
Life as a breastfeeding mom often feels like a balancing act. Keeping up with the demands of nursing and pumping while keeping the rest of your life afloat is a struggle. Add increasing your milk supply the mix, and things can get overwhelming. One way to keep the milk flowing is to eat foods that increase your milk supply. And, because everything tastes better as a dessert, the best way to do that is by whipping up a tray (or two) of delicious breastfeeding, or lactations, cookies.
To give you a little idea of just how important it is to stay healthy while you're breastfeeding, I spoke to RN and internationally certified lactation consultant Cathy Nutting, who shared some of the ingredients to increasing your milk supply. During our talk, she shared that oats, brewers yeast and Flaxseed oil are the three most effective foods for increasing your milk supply.
"There isn't a lot of scientific evidence on these findings yet," Nutting explains, "but many women find these foods to really help their supply. Though it does vary for each women, I never doubt anyone who tells me after eating a bowl of oatmeal in the morning they notice an increase in breast milk." Aside from eating healthy, Nutting says that "the single most important thing you can do for your milk supply is making sure your baby is taking plenty of milk out, so that your body knows to make more. Relax and know that your body will do its best for your baby."
But when rest isn't possible and you're craving something sweet, a little lactation cookie can do the trick to increasing your milk supply. Although recipes may vary in flavor, the majority of breastfeeding cookie recipes contains have a few ingredients in common, such as— you guessed it– oats, yeast and flaxseed.
So next time your milk supply needs a little boost, try making one of these delicious recipes. Your tastebuds and milk supply will thank you for it.