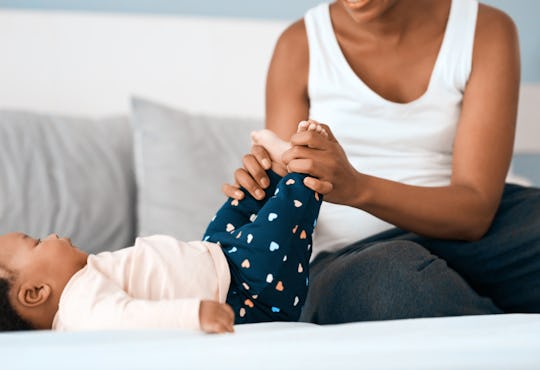 Hiraman/E+/Getty Images
3 Mental Health Resources We Could Provide New Moms, But Don't
It's no secret that many new moms experience mood and anxiety disorders such as postpartum depression (PPD), postpartum anxiety (PPA), and obsessive-compulsive disorder (OCD). What is clear is that there are mental health resources that could be provided to new moms, but aren't. It's time to change that.
According to the Illinois Department of Public Health, 10 to 20 percent of new moms will experience postpartum depression. A study in Pediatrics of more than 1,100 new mothers found that approximately 17 percent of moms showed symptoms of postpartum anxiety. The International OCD Foundation reports that up to three percent of childbearing women experience postpartum obsessive-compulsive disorder. These numbers make it clear that many pregnant and postpartum women are struggling with mental health issues.
Katherine Stone, the founder of Postpartum Progress, a national nonprofit which focuses on maternal mental health, wrote an article in Babble discussing this very topic. She reached out to the readers of her blog and found that many of them never received any kind of mental health screening during or after their pregnancies. Several of these women were struggling with mood disorders and had ended up seeking help on their own.
Here are three vital mental health resources that should be provided to all new moms, but currently aren't.