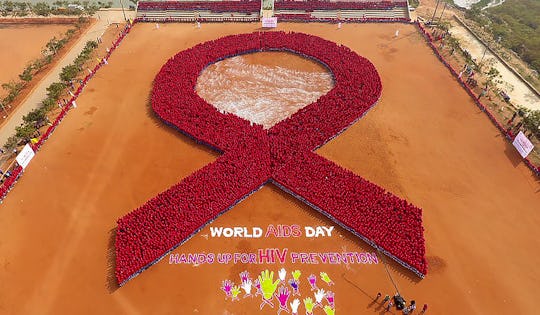 ASIT KUMAR/AFP/Getty Images
3 Organizations To Donate To On World AIDS Day & Stand With Those In Need
Despite huge gains in science and research, the fight against HIV/AIDS is just as important today as it was 10 years ago. December 1 is the day the entire world comes together to support the tens of millions of people across the world living with AIDS and the millions more lost to the epidemic. If you'd like to get involved, here are three organizations to donate to on World AIDS Day.
First, a few facts. According to the Centers for Disease Control and Prevention, there are currently 36.7 million people living with HIV/AIDS, and more than 1 million people die every year from AIDS. Besides developing breakthroughs AIDS Awareness Day is an opportunity to bring awareness of the people suffering, and educate people on how to get tested and prevent contracting it in the first place.
To mark World AIDS Day 2016 megawatt stars Rihanna and Prince Harry teamed up in Bridgetown, Barbados to take very public HIV tests, with almost instant results, according to USA Today.
"It's amazing how quick it is," Prince Harry said, according to USA Today just after taking the test. "It's better that everyone goes and gets tested. Why wouldn't you? Whether you're a man, woman, gay, straight, black, white, whatever, even ginger, why wouldn't you come and have a test?"
So if you're inspired by Prince Harry and Ri-Ri to get involved, here are a few organizations you might want to consider supporting.
amfAR
The Foundation for AIDS Research or amFAR has helped develop new treatments, donating more than $450 million to both scientists and researchers. The foundation also provides resources on the front lines of protecting the world's most vulnerable communities from infection.
The Elizabeth Taylor AIDS Foundation
Started by one of the original queens of the silver screen in 1991, the Elizabeth Taylor AIDS Foundation is dedicated to HIV prevention, education, and helping those living with AIDS, particularly in vulnerable communities. Just a $10 donation by text buys three AIDS tests through the organization.
Save The Children
In 2014 alone, Save the Children says it helped 11.8 children who have been orphaned by AIDS or are vulnerable to infection. Save the Children says more than 2.6 million children under the age of 15 are living with HIV/AIDS, so if you're looking for an organization that focuses on helping kids, consider this one.
Whether you donate, volunteer, or participate in a local event, there are plenty of ways to commemorate World AIDS Day. There are millions of people who need your help.