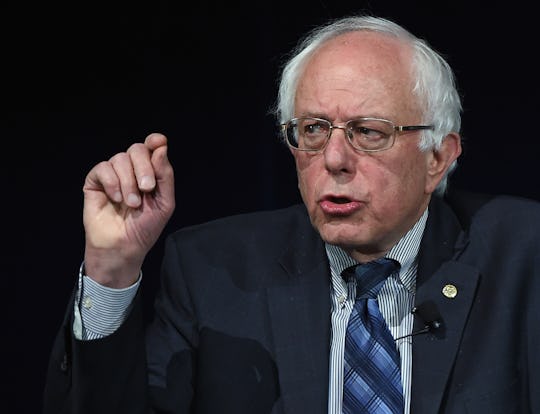 3 People Bernie Sanders Is Surprisingly Beating In 'TIME's Person Of The Year Poll
Bernie Sanders has a way with people. And he's proving just that now — after all, Sanders is leading TIME's Person Of The Year poll . It seems that there's just something about the guy. The polls for the magazine's honor close in 11 days, and the Vermont senator and Democratic presidential candidate has the lead.
But Sanders isn't merely "leading" the Person of the Year polls. He's killing it. He's beating Malala with 12 percent of the votes to her 5 percent. He's also beating Donald Trump, who will be very disappointed to know that he only has about 2 percent of the vote, just like Hillary Clinton.
Trump told supporters at a rally in Alabama this weekend that he believes the magazine will snub him, even if he has the votes:
We have somebody from TIME magazine here. You know I was on the cover recently. Now they're here again, so I assume they're considering me for man of the year. I say there's no way they give it to me. They can't. Because, mentally, they can't. They just can't. They can't do it. Even if I deserve it, they can't do it.
But Bernie is beating out more people than just Trump: he's winning over celebrities, global leaders, and even Syrian refugees. Here are his top three competitors, besides Malala:
Pope Francis
His U.S. visit and stance on gay marriage could be reason enough to have him grace the cover. But it's a little obvious, isn't it?
Stephen Colbert
Colbert is another surprising candidate for the award, but he does have an impact on people. He's smart, funny, and crosses political barriers. Why not, right?
Refugees
This would be the cover that would have people talking. (Just like in 2006, when TIME chose "You" as the winner.) In light of the recent terrorist attacks in Europe, the refugee crisis is one of the biggest problems world leaders have faced this year. It's a good bet.
Others in the top ten include Cecile Richards of Planned Parenthood (too controversial), Elon Musk (too boring), Angela Merkel (she is holding Europe together), and Narenda Modi, the Indian Prime Minister. JLaw, Adele, and Misty Copeland are all hanging on with a percentage or two of the votes, too. But all of these picks seem pretty unlikely.
The person of the year needs to be big, sort of universal, and stand for something. That might not describe Bernie Sanders either (depending on your political tastes), but, either way, the winner will be announced on Dec. 7. If he wins, he'll be the first presidential candidate to ever be named TIME's Person of the Year. Seems you might be feelin' the Bern more than one would ever think, America.
Images: Ethan Miller, Pool, Paul Zimmerman, Spencer Platt/Getty