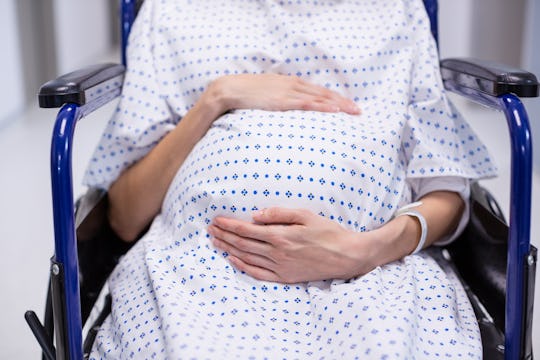 WavebreakMediaMicro/Fotolia
3 Signs Effacement Has Begun & Your Baby Is On The Way
As your labor draws near, you'll continually be looking for signs that it's finally happening. As sure as your OB-GYN may be, there's really no telling exactly when your big day will be (unless you're being induced, of course). But watching your body for signs is a great way to tell that you're at least getting closer. You'll hear the words "effaced" and "dilated" used a lot toward the end of your pregnancy, and it's useful to know exactly what those terms mean, as well as familiarize yourself with signs that effacement and dilation are starting.
Before you can know whether you're beginning to efface, it's important to know the distinction between effacement and dilation. Both terms apply to the way the cervix prepares for labor. "Effacement is when the cervix starts to become soft and thins out. I like to describe it as a rubber band," Stacy Fayling, BSN, RN, labor and delivery nurse, tells Romper. "At rest, the rubber band is thick, but the more it is stretched the thinner it gets. That's exactly what the cervix does as it begins to prepare for childbirth." Dilation, on the other hand, is the opening of the cervix, and 10 cm is the magic number that means you're fully dilated and ready to deliver. That magic number for effacement is measured as a percentage: at 100%, your cervix is thinned out enough for your baby to come through the birth canal
While both effacement and dilation are crucial to the labor and delivery process, Dr. Jane Van Dis, OB-GYN and medical director at Maven Clinic, explains to Romper that effacement is the true "magic" of labor. "While a woman can be dilated for weeks without going into labor, effacement is often an indication that the cervix is really ready for labor," she says.
For first-time moms, however, effacement often begins long before you go into labor. It's a process that takes different amounts of time for different women. Whether it happens overnight or over a few weeks, knowing the signs that your cervix is effacing can be helpful (and encouraging) as you prepare to give birth.