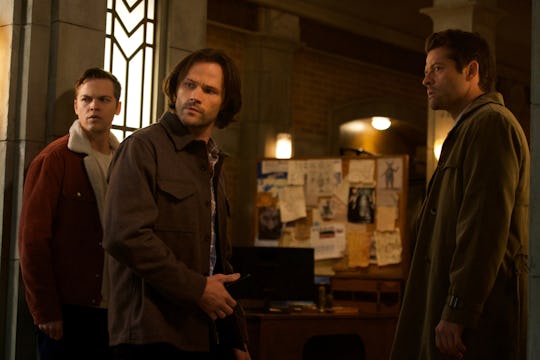 The CW
'Supernatural' Is Back & There Are Some Wild Theories You Need To Check Out
Supernatural is back with the second half of Season 14, and things are getting wild. Michael is in Dean's body, and his Thanos snap (hehe) has sent all of his monsters loose. This is a show where things regularly go off the deep end, and nothing is out of play, from heaven to hell and back down again. So let's dig into these 3 Supernatural theories that I've been mulling over.
What is known right now is that Sam and Castiel are going to be spending the next episode trying to figure out how to get Dean back. The synopsis for Supernatural Episode 10, "Nihilism," is as follows: "Michael retakes control of Dean as his army of monsters continue to move in; Sam devises a plan to reach Dean and stop Michael before anyone else dies." Not much to go on there, but the trailer for the episode is seriously jam-packed with excitement.
As long as Supernatural has been around, there have been fan theories about the show. What fun would it be to watch demons, angels, and the like without trying to figure out some semblance of order or pattern to it all? I can't offer you that, but I can give you these dedicated viewers' intriguing thoughts and opinions on what's happened and where things are going next.