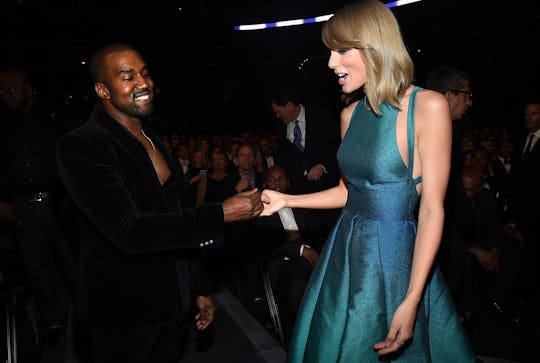 Larry Busacca/Getty Images Entertainment/Getty Images
3 Taylor Swift & Kanye West Halloween Couples Costume Ideas
Back in 2009, the world literally stopped when Kanye West interrupted Taylor Swift's VMA acceptance speech. Though some still find it quite funny, many people were mortified (namely Swift and Beyoncé) during the now-historical night. Now, seven years and a few friendship claims later, the two are back at odds and the world is once again looking at the pair not knowing what to expect next. However, in the spirit of Halloween, couples who are fans of either entertainer can put their distaste to the side and pull some Kanye West and Taylor Swift Halloween couples costume ideas to steal the show at any upcoming parties.
Sure, West and Swift can decide if they want to remain friends, but that doesn't mean you have to lose out on a pretty cool and unique costume idea. Whether you want to pull from their first encounter at the 2009 VMAs or create your own possible meeting that could happen between the two, using their unique relationship as the inspiration behind this year's costume is sure to get you guys all the looks.
Not sure what outfits to pull from? These three popular encounters between the two can help you decide.
1. 2009 VMAs Kanye & Taylor
Nude Dress, $57, MissGuided | Rhinestone Trim, $19, Amazon | Pair of Jeans, $16, Hollister | Black Oxford Shirt, $19, Universal Textiles | Black Aviators, $17, Buckle | Microphone, $5, Amazon
Looking to nail this infamous look from West and Swift? You'll only need a few things to make it happen. For Swift, nab a nude dress and some rhinestone trim to glue on if you want to add them. You can even create your own Moonman if you're that crafty. To nail West's look, all you'll need are a pair of jeans, a black oxford shirt, black aviators, and a microphone.
2. 2015 Grammys West & Swift
Open Back Ombre Dress, $200, Simply Dresses | Black Slacks, $50, TopMan | Black Blazer, $50, ASOS
Though you probably won't be able to get the exact same dress that Swift had on in this encounter with West, you can come pretty close with this open back ombre dress. For West, it may be a little easier because all you'll need are a pair of black slacks and black blazer with nothing underneath.
3. 2015 VMAs Kanye & Taylor
Khaki Joggers, $20, H&M | Beige Shirt, $3, TopMan | Black Joggers, $20, Target | Black Long Sleeve Crop Top, $20, Bonanza | Fabric Paint, $2, Deco Art
For this final look, grab a pair of khaki joggers and a beige t-shirt for West's look. Since finding the exact design of Swift's outfit may cost you a little ching-ching-ching, grabbing a pair of black joggers and a black long sleeve crop top and using fabric paint to add the color just may be your best bet.