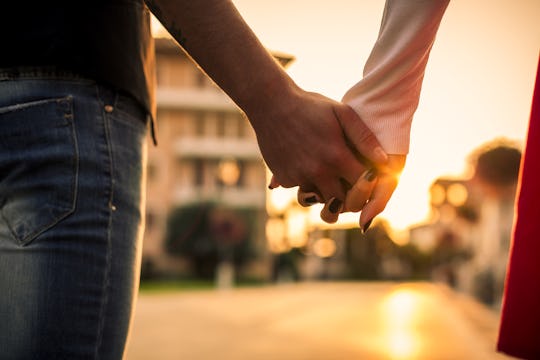 Fotolia
3 Things To Know About HIV Before You Talk About Charlie Sheen's Diagnosis
It's very possible that actor Charlie Sheen just became the biggest celebrity openly living with HIV. In an interview Tuesday with Today Show host Matt Lauer Tuesday morning, Sheen came forward with the news that he is HIV positive. And while he's certainly not the first celebrity to do so, Sheen's announcement is still big news. Without a doubt, everyone will be talking about the actor's private health status in the coming days, either in major news outlets, social media, or in regular conversation. But — whether we're talking about Sheen or any of the 37 million people currently living with the virus worldwide — there's a respectful way to talk about HIV/AIDS. And whether you're a fan or Sheen or not, he deserves that basic human dignity.
Members of the press sometimes struggle with vocabulary and respectful language when reporting about people living with or affected by HIV. To help facilitate more responsible reporting, several outlets have already shared editorial guidelines online. Mic.com, for example, has shared a style guide of terminology and "person-first language" for reporters to use to avoid stigmatizing people living with HIV. Terms like "HIV-positive person" and "drug user" could easily feel like judgment or stigma to those affected by the virus. Instead, Mic urges reporters to opt for terms that, while descriptive, avoid judgment and negative stereotypes so often associated with HIV.
But what about guidance for all of the conversations that will happen outside of the media? How can we have more responsible conversations with friends and family about HIV/AIDS? Or better still, how can we respectfully shut down those folks who are already starting to blame Sheen (or indeed the millions of other people living with HIV/AIDS) for causing his own condition?
Here are a few ways we can all help avoid the myths and stigma and talk responsibly about Sheen's announcement.
1. HIV Isn't Repayment For Sheen's Lifestyle
Almost as soon as the news came that Sheen would be revealing his HIV status, people began pointing to his history of drug use, promiscuity, and erratic behavior. Not only is that not particularly helpful, it helps continue the myth that only "certain people" need to be concerned about getting HIV.
2. In The US, HIV Isn't Really A Death Sentence Anymore
While certainly a serious health issue, the 1.2 million Americans living with HIV are living longer, more successful lives. And in recent years, expanded healthcare access through the Affordable Care Act has helped to overcome access problems that often kept people of color and people in poor communities from getting treatment.
3. Stigma Is A Bigger Danger To Getting HIV Treatment
Shame and stigma surrounding an HIV diagnosis can keep people from getting the treatment and support they need. GLAAD CEO and President Sarah Kate Ellis said in a statement posted to its website following Sheen's interview that "stigma prevents people from getting tested, it prevents people from getting treated, and it can contribute to increased rates of infection"
Indeed, the actor said that one of the reasons he chose to make his diagnosis public was to help overcome stigma and secrecy. "I have to put a stop to this onslaught, this barrage of attacks and of sub-truths and very harmful and mercurial stories that are about threatening the health of so many others, which couldn't be farther from the truth," Sheen told Lauer on Tuesday.
Without a doubt, Sheen's coming forward will mean that many of us will be having conversations with friends and family about HIV/AIDS in the coming weeks. But, whether we're talking about a celebrity or not, there's a way to do so without placing shame or blame on the person living with the virus. And it's important we find a way: nearly 50,000 more people are diagnosed with HIV each year, but thousands more could be living with the virus and not know it. Perhaps having more respectful conversations will lead to more people getting tested — and getting access to treatment.
Image: Fotolia