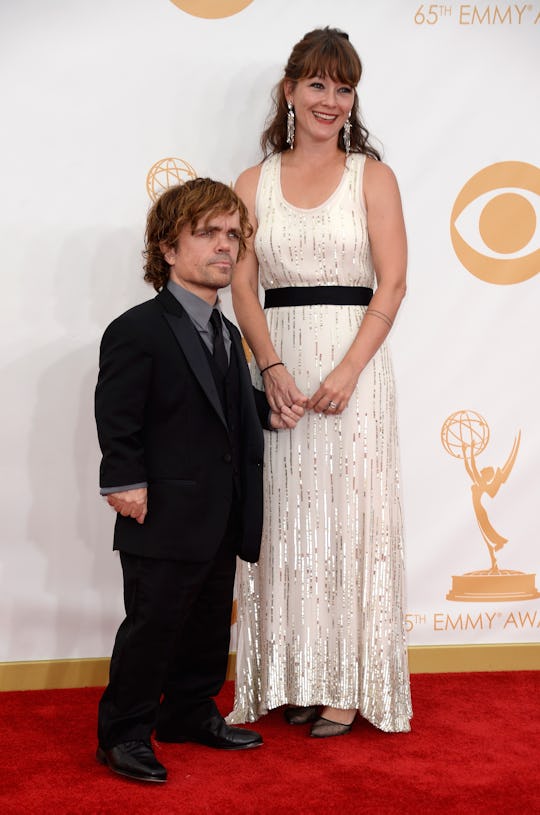 Frazer Harrison/Getty Images Entertainment/Getty Images
Three Times Peter Dinklage Was Dad Goals
Despite being incredibly present in films, actor Peter Dinklage is a surprisingly private person. So, when People confirmed that Dinklage and his wife, Erica Schmidt, were expecting their second child, its no surprise that people wanted to know about Dinklage's life as a parent. Although his life remains private most of the time, these three times that Peter Dinklage was dad goals proves that he needs to be just a little more public about his home life — because from what fans can see, he truly is an awesome parent.
On Thursday, a source confirmed to People that Schmidt is pregnant for a second time after giving birth to their daughter in 2011. Dinklage and Schmidt are already parents to a five-year-old daughter. Yet, despite Dinklage's daughter's age, there is not much more that the public knows about her. Yes, the Game of Thrones actor and his writer and director wife are incredibly private when it comes sharing details from their lives — especially when it comes to details about their daughter's life. "I'm a private person," Dinklage told Entertainment Weekly in 2014. "I think the less you know about the actor, the more seriously you'll take them as an actor." Luckily, from the parenting moments that Dinklage does share with the world, they show that he's pretty much dad goals. Don't believe me? Just take a look at the three moments that prove it.
The Time He Took Control Of Parenting
Because sometimes, as a parent, you need to take control of your child and the situation — and handle things in style, just like Dinklage. In 2013, the Dinklage family was spotted walking around New York City, until he had to take control of his daughter, who looks absolutely elated to be held by her father upside down. It was rumored for some time, that Dinklage's daughter was named Zelig — until Dinklage dispelled the rumors in an interview with the The Guardian in 2015. "Let me tell you right now: her name is not Zelig," Dinklage said. "But it's hilarious that that's a fact in Wikipedia."
The Time He Was Forced To Push The Stroller...And His Daughter
Because sometimes, kids just can never decide if they want to be pushed in their stroller or walking on their own — and sometimes, parents, like Dinklage are forced to do both. In 2014, photographers caught Dinklage and his daughter in the midst of this very circumstance, proving that even movie stars are not immune from a toddler's indecision. And that as a dad, Dinklage will do anything for his daughter.
The Time He Had To Leave His Daughter With A Babysitter For The First Time
In 2012, after winning a Golden Globe for his performance in Game Of Thrones, Dinklage admitted to People that he was leaving his daughter with a baby sitter for the first time — and was, understandably, a little scared. Luckily, he handled it like like a pro, telling People:
Everything's fine — so far. She's a baby. Crying never killed anyone. Well, maybe that's not true.
And later in the evening, Dinklage opened up to Access Hollywood's Billy Bush, stating that he was the more nervous parent about leaving his daughter with a baby sitter, over his wife, "But she's the one texting, because I think I'd be sweating," Dinklage told Bush. "I don't think my texts would work."
Peter Dinklage and Erica Schmidt may be very private parents, but those little glimpses he does share with the public proves that he really is dad goals.