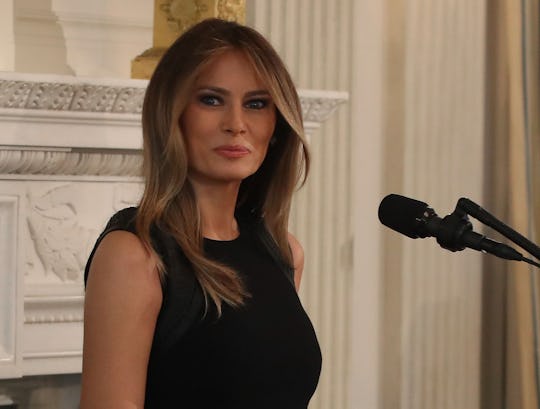 Mark Wilson/Getty Images News/Getty Images
3 Weird Things We Know About Melania's Redecorating
On Sunday, First Lady Melania Trump and son Barron finally moved to the White House, about seven months after Donald Trump became president. Now that Melania is an official resident of the White House, Americans are wondering how she'll redecorate her new digs. Considering Melania has spent a big chunk of her life living in a gold adorned tower, aka Trump Tower, it's reasonable for one to expect her taste might be a little unique. That being said, here's three weird things we know about Melania's White House redecorating so far.
Back in February, Melania named renowned designer Tham Kannalikham to help her redecorate her living space at 1600 Pennsylvania Avenue, according to the LA Times. Typically, a first lady is given free reign over the top two floors of the White House, including the selection of furniture, wall colors, and other home improvements. Although there are some rules restricting what a first lady can do redecoration wise, there isn't a lot she can't do to make the White House her own. Redecorating is often one of the first steps a first lady takes on when she's granted the unofficial title, so it's often a focus of some media attention and speculation. As expected, the interest in Melania's redecorating is just as high as it was for her predecessors, perhaps even more so given her fairly private profile.
Now that interest in Melania's plans has reached a fever pitch, I've discovered three weird things about her redecorating process to satiate some of the curiosity.
The Public Knows Nothing
The tradition of redecoration is generally a lighthearted and public affair, with the first lady divulging all the decor details to curious Americans. Former First Lady Michelle Obama regularly shared information about her designs to publications like Vogue and Architectural Digest during her time at the White House. Given Michelle's transparency about redecorating during her time as first lady, it's strange that Melania hasn't been more open about her plans for the White House. It's especially weird when you consider Melania is often praised for her supposed good taste. One would think if Melania isn't going to pick up a cause to champion when she's first lady, she might as well give her all to redecorating.
Barron's Bedroom Is Still A Mystery
Although Americans know Kannalikham was tapped to lead the redecorating efforts, not much other information has been released regarding what he and Melania intend to do. At this point, Americans don't even know what Barron's bedroom will look like, a somewhat odd fact when you consider Melania is by all accounts a very devoted mother. To once again compare Michelle to Melania, Sasha and Malia's bedroom decor was revealed to the public very early on, with the girls even talking to the press about designing their new digs. Because redecorating is a pretty controversy-free zone, it's weird Melania hasn't expressed any details about her or Barron's plans. As of Thursday, Americans still don't know what the bedroom will look like, or what Barron hopes the room to look like. The only bit of information available is that Barron looks forward to having "school friends visit" the White House, according to the New York Daily News.
The Glam Room Rumor
Another bizarre angle to this redecorating mystery is the rumor of a glam room being built for Melania prior to her move. On the subject of the glam room, Nicole Bryl, Melania's makeup artist, said to Us Weekly:
There will absolutely be a room designated for hair, makeup and wardrobe. Melania wants a room with the most perfect lighting scenario, which will make our jobs as a creative team that much more efficient, since great lighting can make or break any look.
Although many first ladies have enjoyed an impressive team of hairstylists and makeup artists to make them camera ready, this is the first time the concept of a glam room has been introduced to White House. The concept of a glam room might not be weird to celebrities, but it's bizarre to imagine a Kim Kardashian West staple in one of the most historic homes in the world. Still, it's not bizarre in a bad way. If it would make Melania happy, why shouldn't the first lady have a room to get ready for appearances? Especially if that first lady is private and doesn't want anyone in her personal bedroom. As to whether the alleged glam room has come to fruition, that too remains a mystery.
Since moving in, Melania has only given Americans one peek at the White House's decor. On Sunday, Melania tweeted a picture of a White House dining table adorned with flowers and two long stick candles. The picture was a bit hard to make out due to the dark lighting, but it's somewhat fitting considering it was rumored Melania never wanted to move to the White House to begin with. Despite the beautiful view outside the White House, the view from inside is a bit more somber.
As of Thursday, it still remains to be seen how Melania will redecorate the White House. Although it's weird that Melania hasn't given the public an inkling of information about her plans (glam room aside), it's also fitting when you consider she has kept to herself prior to Trump becoming president. Now that Melania is actually living at the White House, it will be interesting to watch how her involvement or lack thereof unfolds.