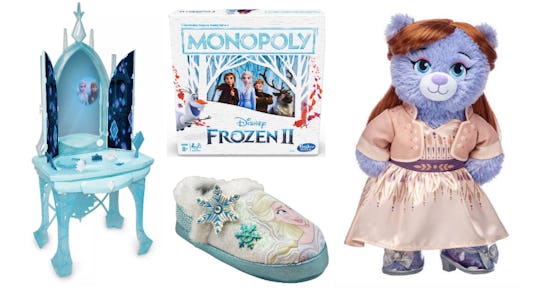 Target, Walmart,, Build-A-Bear
30 A+ Holiday Gifts For Kids Who Love 'Frozen', From $10 To $200
Thanks to Frozen 2's release, the franchise now has tons of new fans on top of the kids who already loved Anna and Elsa. If you're on the hunt for some Frozen and Frozen 2 holiday gift ideas, you're not alone. Between the two movies, there are no shortage of options like slippers and PJs, slumber party essentials, dolls, clothes, lunchboxes, and a castle fit for an ice queen.
Since Frozen's sequel was released six years after the original, the die-hard fans' ages range from toddler to big kid (yes, adults too, but the focus is on kids here). That means there are a lot of factors to consider when picking out a holiday gift, like "is this product safe for kids who put everything in their mouths?" or "will a 13-year-old who doesn't think anything is cool like this?".
To help you out, here's a robust list of 30 great Frozen-themed gift ideas. Whether you're shopping for a tot, little kid, or a tween, there is something here for everyone at various price points (you don't have to empty your bank account to give your kid a little bit of Frozen magic). And don't worry, only one toy on the list plays "Let it Go".