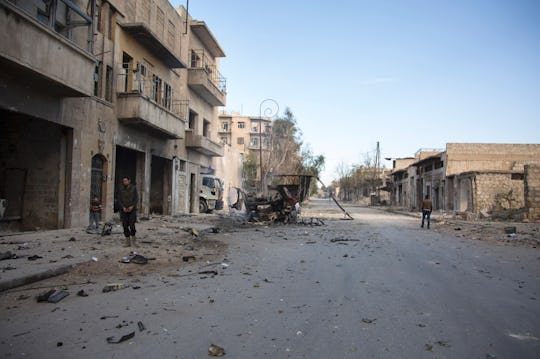 KARAM AL-MASRI/AFP/Getty Images
300 Killed In Aleppo Over The Past Week & The Casualties Included Children
On Sunday, Aleppo endured its sixth day in a row of bombing after a three-week reprieve, leaving hundreds injured or killed in the bomb-riddled capital of the Syrian civil war. The latest attacks, which allegedly included a chemical attack and the use of barrel bombs, left 300 dead in Aleppo, including several children. There are now zero hospitals in the city that are operating at full capacity, and rebel-held eastern Aleppo has been cut off from supplies of food, fuel, and medicine, with its last hospital destroyed by airstrikes on Saturday. Both a children's hospital and a school were caught in the bombings.
Unfortunately, the Syrian regime's Russian-backed air strikes could indicate far worse news for the 300,000 residents left in eastern Aleppo. According to CNN, analysts fear that the increasing number of bombings could be laying the groundwork for an upcoming ground offensive, in an attempt to quash rebel forces in the area. For four years, the city has been a stronghold for rebels that oppose the regime of President Bashar al-Assad, and it's an important territory for them to hold in the ongoing war. However, without fully functional hospitals or basic supplies needed for survival, Aleppo's rebel forces could be in trouble.
"It is not only [Medecins Sans Frontiers or Doctors Without Borders] that condemns indiscriminate attacks on civilians or civilian infrastructure, including hospitals, but also humanitarian law," MSF emergency coordinator Teresa Sancristoval told CNN. "The message is simple and I don't know how to say it any louder: Stop bombing hospitals."
Both al-Assad's government and Russia deny any such bombings, however, and said barrel bombs — condemned for causing unnecessary suffering — were not being used. On Saturday, Russian officials said they were only bombing groups that refused to respect a ceasefire, according to Reuters.
The Syrian Observatory for Human Rights couldn't confirm that chlorine gas was used during the bombings, but both the United Nations and the Organisation for the Prohibition of Chemical Weapons have reported the use of chlorine gas in barrel bombs at least three times throughout the Syrian civil war. Syrian regime officials denied the use of chlorine gas, which would go against the international Chemical Weapons Convention prohibiting its use.
"They cannot take it from the ground, so they're trying to take it from the air," an Aleppo doctor told The Guardian on Saturday. "They bombed all the hospitals and schools, so there is no life and people give up. If it stays like this, people cannot wait it out. Medicines, vaccines, will finish. At this rate I cannot see us continuing for more than two weeks."
The city's children can't survive without access to food or medical care, and the tactics being used in Aleppo fly in the face of basic human rights. Now more than ever, it's important for the international community to call for help in Aleppo and step in when human rights are being abused.