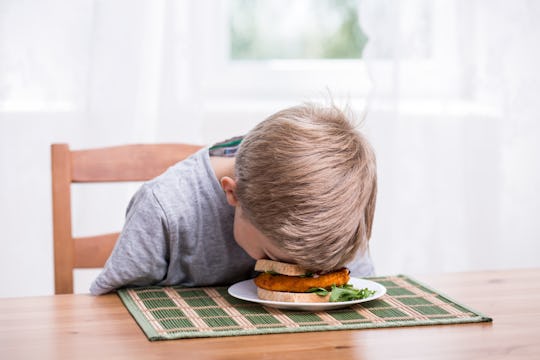 Photographee.eu/Fotolia
39 Funny Tweets About Kids And Food That Show The Picky Eater Struggle Is Real
Since becoming a mom, I've learned not to take food so seriously. Sure, it's important to feed your kids healthy foods, but when you're the parent of a picky eater, more often than not, meal time automatically turns into survival mode. And since misery (or pickiness in this case) loves company, funny tweets about kids and food from parents who have been there probably won't convince your kids to eat their dinner, but they will definitely prove that you're not alone in the dinnertime struggle.
Before I had kids I had grand aspirations for myself as a mom. I pictured myself as a wise, nurturing mother who would only feed her always obedient children organic, free-range, gluten free, non-GMO meals. We would sit down to dinner and my kids would eat all of their food, responding with a polite "thank you for dinner, mommy" and then we'd go on our merry way.
Now that I'm the mother of a toddler and an almost-toddler, let's just say that my mindset has changed a bit since my pre-mom days. Most of the time, I'm lucky to get my daughter to finish an entire meal that doesn't completely consist of goldfish crackers and bananas.
If you too are the parent of a picky eater, or "child" as most people call them, these tweets will resonate with you. And if your child hasn't yet reached these lengths of opinionated-ness, may the odds be ever in your favor.