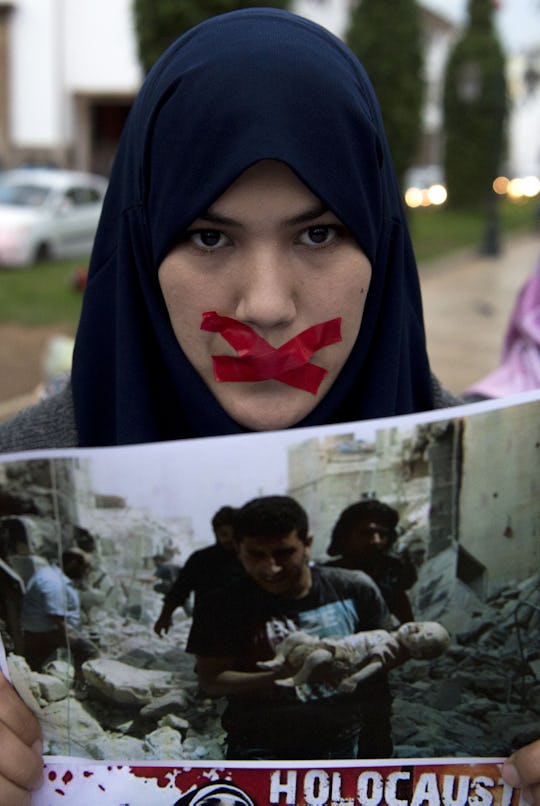 FADEL SENNA/AFP/Getty Images
4 Aleppo Fundraisers To Donate To Right Now To Help Women & Children Trapped By Civil War
A tenuous cease fire appears to be holding between Bashar al-Assad's Syrian government and Syrian rebels who had been trapped and under seige in a corner of the once-bustling city of Aleppo. The ancient city has been decimated and it's civilians trapped and under bombardment by the Russian- and Iranian-backed Syrian government determined to crush the rebel uprising against al-Assad's grip on the country. These people, mostly women and children, need your help. Here are four Aleppo fundraisers to donate to.
Evacuations of wounded civilians started on Thursday as buses and ambulances rushed into the city, according to the Washington Post, which added that one ambulance came under fire as it was trying to get the injured to safety. Last week Syrian government fighters were executing people trying to escape the fighting, the Washington Post reported.
Reports from those few remaining in Aleppo describe a horror scene of death and destruction. Women and children are being "cooked alive by barrel bombs where they stood," Abdullah Othman, who runs the Consultative Council in the Levant Front, told The Daily Beast on Wednesday. "Seventy-nine of them were executed at the barricades," Othman said. "This morning 20 women committed suicide in order not to be raped."
Rupert Colville, the UN rights office spokesman called conditions in Aleppo "a complete meltdown of humanity," according to Al Jazeera.
These people desperately need help. Here are a few fundraisers you should consider supporting to help bring those trapped in Aleppo some kind of relief.
1. The White Helmets
The White Helmets are a group of volunteer, everyday Syrians who left jobs like teaching and fighting fires to work as rescue crews and save lives as the violence began, according to TIME magazine. The code of conduct for the White Helmets, which once numbered about 3,000, forbids them from taking up arms, TIME added. Their only focus is helping civilians survive.
Watch this unbelievable interview from Aleppo where the leader of the White Helmets, Ammar al Salmo, describes to VICE News the level of suffering going on in the city.
When you donate to help the White Helmets, you are helping Syrians trying to save their neighbors in what the White Helmets fundraising site calls "the most dangerous place on earth."
Money raised helps wounded White Helmets and their families and buys lifesaving equipment.
2. Syrian Red Crescent
The Red Crescent is the equivalent to our Red Cross, and its Red Crescent ambulances that are evacuating wounded Syrians out of Aleppo. Donate to the International Federation of Red Cross and Red Crescent Societies and help get these rescuers the resources they need to get trapped civilians to safety.
3. Save The Children
There are thousands of children trapped in East Aleppo, according to Save the Children, and the group is raising money to get supplies and relief specifically to those children. You can choose to donate food, shelter, even new baby kits for mothers and infants displaced and in danger as a result of the fighting.
4. The International Rescue Committee
The International Rescue Committee is also on the front lines of the Aleppo evacuations and needs donations to provide basic necessities like water and blankets.
If you're feeling helpless watching violence ravage the city and civilians of Aleppo there is something you can do. Give anything you can to one of these groups to help end some of the suffering.