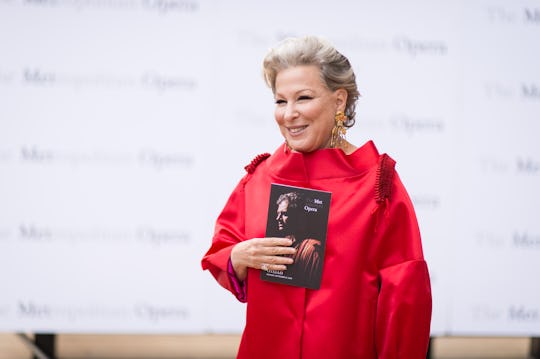 Dave Kotinsky/Getty Images
4 Bette Midler Performances You Have To See Before Her 'Hello, Dolly' Broadway Debut
After a few years away, a certain actress is heading back to The Great White Way. The New York Post reported on Tuesday that Bette Midler was returning to Broadway for a revival of 1964's Hello, Dolly! Though theater buffs are sure to be excited by the news, they'll have to wait until 2017 for Midler to take the stage. In the meantime, fans will have to get their fix by binge-watching all of Midler's best Broadway performances on YouTube. (Sigh.)
"I am looking forward to portraying one of the most beloved characters in all of American Musical Comedy, Dolly Levi, born Gallagher, in Hello, Dolly!" Midler said in a statement, according to Playbill. "I know I'm going to have the time of my life, and I am so glad to be under the wings of Scott Rudin as Producer and Jerry Zaks as Director. See you next year!" The news comes a day after Midler teased to her 828,000 Twitter followers, "Well HELLO! This Dolly has an announcement coming tomorrow!"
It's been quite some time since Midler has graced Broadway. In 2013, she took part in a one-woman show I'll Eat You Last: A Chat With Sue Mengers. Though the show made good on its $2.4 million investment in a little more than two months, the production wasn't nominated for a Tony Award, according to ABC News. So it's a safe bet that she'll be ready to take on Dolly Levi.
But it'll be some time before the show goes on, so to speak. Though Playbill also reported that Hello, Dolly! will be directed by Jerry Zaks and choreographed by Warren Carlyle, the curtain won't rise until 2017. Specifically, previews are slated for March 13 and the show will officially open on April 20 at a theater yet to be determined. But it looks like one person who's already confident this revival will be a hit is the show's original composer Jerry Herman.
"Many times through the years, I've been asked about bringing back Hello, Dolly!" Herman told the publication. Though he's received suggestions for "dozens" of names, he wanted someone more than just "a wonderful singer or a wonderful actor," to take on the role. Herman added,
Who is out there that has the necessary stature, warmth, the incredible talent and ability, and especially the singular, outsized personality that I was looking for in a 21st century Dolly? Only one person: Bette Midler. Only Bette could bring Dolly brilliantly back to 'the lights of 14th Street!
Thinking about Midler's three three Grammys, four Golden Globes, and three Emmys should make any fan reminisce about some of the star's most powerful performances. Here are four that prove that the Hello, Dolly! role couldn't have gone to a better person:
"The Rose"
In 1979, Midler hit the silver screen in The Rose. The film centered around a rock star who ends up battling drug and alcohol addiction, and Midler earned a Golden Globe for her performance; The tune "The Rose" also won in the Best Original Song category and is one of her best known hits to this day.
"Wind Beneath My Wings"
Okay, who could forget Beaches? Not only was the movie about Midler's unlikely but unbreakable friendship beyond heartbreaking but the song "Wind Beneath My Wings" became the anthem of the late 80's — and for good reason.
"Do You Want To Dance"
When Midler released her debut album, The Divine Miss M in 1972, one of the standout tracks was "Do You Want To Dance," hitting number 17 on the Billboard charts. Here, Midler performs the song during her Experience the Divine tour, which kicked off in 1993.
"Boogie Woogie Bugle Boy"
Also appearing on The Divine Miss M, "Boogie Woogie Bugle Boy" was also a standout hit, even earning her a Grammy nomination for Best Female Pop Performance. Though the song was originally sung by the Andrews Sisters, Midler made it her own, taking on her alter ego of Dolores DeLago, in The David Letterman Show performance above.
Image: Dave Kotinsky/Getty Images