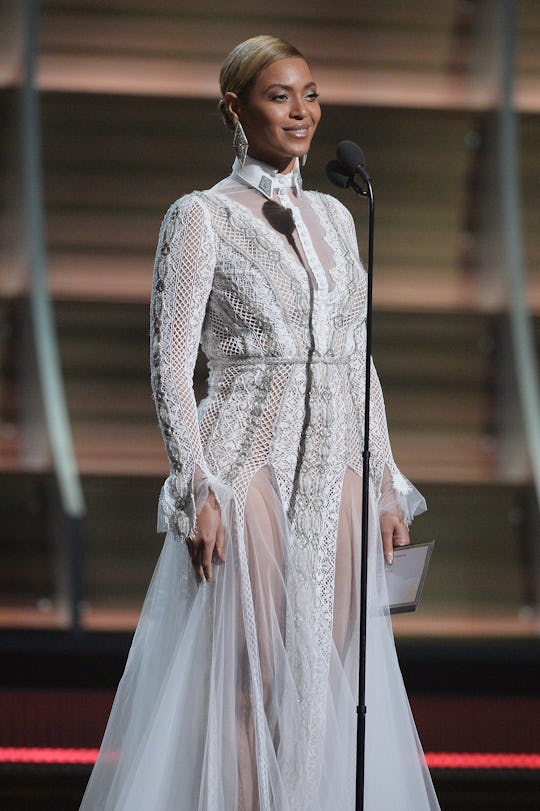 Kevork Djansezian/Getty Images Entertainment
4 Beyonce Illuminati Theories That Will Blow Your Mind
Beyoncé may be Queen Bey, but she's probably not the leader of the Illuminati. In her video for "Formation," she addressed rumors of her membership in the secret society up front: "Y'all haters corny with that Illuminati mess." Beyoncé may be distancing herself from a New World Order, but that hasn't stopped conspiracy theorists from dissecting every element of her public persona for indications of an affiliation. Even if you're not an Illuminati truther, here are four Beyoncé Illuminati theories that will blow your mind.
Law professor Adam Weishaupt founded the Illuminati in 1776, according to Discovery News. Claiming to have knowledge others didn't, Weishaupt prized reason and invited members to progress secretly through the ranks of the organization in order to secure more information on his worldview. Bavaria outlawed the society in 1783, but the Illuminati survived in fragments around the world. Though writings found after a member was killed suggest that the organization's underlying philosophy was fraudulent, many believe that members are orchestrating international affairs even in 2016.
As one of the world's biggest superstars, Beyoncé is also a magnet for conspiracy theories. Here are four you won't believe:
Beyoncé Flashed An Illuminati Symbol At The Super Bowl
The ROCNATION hand symbol looks a lot like the Illuminati pyramid, according to The Fader. During her 2013 Super Bowl performance, Beyoncé made the symbol before the Superdome had a power outage during the third quarter. Theorists believed it was all connected to Beyoncé's role in the Illuminati.
Blue Ivy Carter Is An Illuminati Member
Celebrity babies are known for unusual names, from Apple to Elsie Otter. But in the case of Beyoncé's daughter with Jay Z, theorists think her name's origin is sinister. Blue Ivy is thought to be an acronym for Born Living Under Evil Illuminati's Very Youngest, according to Gawker.
One Theory Alleges Aaliyah Was Killed To Make Way For Beyoncé
Singer Aaliyah died in a plane crash in 2001, Refinery29 reported. Theorists believe that Aaliyah wanted to escape the Illuminati and possibly share its secrets publicly. Though she was close friends with Beyoncé, some believe that Jay Z and Aaliyah's boyfriend, Damon Dash, orchestrated Aaliyah's death to make way for Beyoncé to serve as an Illuminati leader. Theorists have looked for hidden messages in Aaliyah's music and used numerology to try to back their claims, but it appears that the actual explanation for Aaliyah's death is that the plane was overloaded and "the pilot was on drugs," according to Refinery29.
Beyoncé Was Reborn In "Crazy In Love"
In the video for "Crazy in Love," Beyoncé sits in an exploding car before being "reborn" as alter ego Sasha Fierce. Theorists believe this is symbolic of Beyoncé's initiation into the Illuminati, according to Pop Dust. It doesn't help that the singer has described having "out-of-body experiences" in performance.
The rumors may seem ridiculous, but theorists do have one thing right: the world bows down to Queen Bey, and that's totally OK.