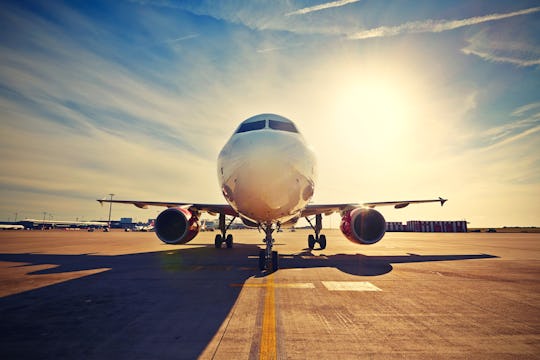 chalabala/Fotolia
4 Breastfeeding Positions For A Plane That Are Actually Comfortable
If you're traveling on a plane with your baby they will no doubt get hungry and possibly fussy at some point during the trip. There may be plenty of private and clean (OK, semi-clean) places for you to breastfeed in an airport, but what about when you get on the plane? You'll be scrunched into crowded seats with dirty surfaces and limited privacy. Whether you aim to avoid confrontation with fellow passengers who may be uncomfortable with seeing you breastfeed (yes, it's ridiculous), or you simply desire to be physically comfortable feeding your baby, there are certain breastfeeding positions for the plane that will help with both.
Before you get on the plane Le Leche League International (LLLI) suggested breastfeeding mothers wear comfortable clothes and that they bring a blanket or some type of cover up if they want to be discreet. You're not required to cover up, but some mothers prefer it, and that's OK. It's also suggested that nursing moms arrive at the airport with plenty of time to relax. As one might guess, a seat on the plane with more legroom would probably be ideal for breastfeeding.
But if none are available, here are some easy ways to hold your baby, breastfeed, and be comfortable all at the same time. And who knows, maybe even have a free hand for grabbing a sip of water.