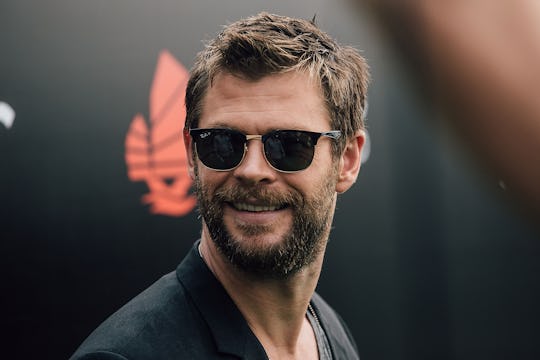 Anthony Kwan/Getty Images Entertainment/Getty Images
4 Chris Hemsworth Parenting Tips That All Parents Can Use
Actor Chris Hemsworth is best known for playing Thor, a Norse god with superhuman powers. But to his kids, he's just "dad." That's not to say that playing dad isn't a challenging role. Hemsworth would probably be the first to say that it's one of the more difficult things he's ever done, but he sure makes it look easy. To learn some superhuman tricks of your own, here are some Chris Hemsworth parenting tips that all parents can use.
To give some background about Hemsworth's parenting chops, he's got three kids: a daughter named India Rose and twin sons named Tristan and Sasha. Instead of settling into the hustle and bustle of the Hollywood scene, Hemsworth and his wife Elsa Pataky make their home in beautiful Australia. That choice is lesson number one: especially when kids are young, put them first. When speaking to Parade, Hemsworth opened up about his priorities. He said, "There are other things in my life now — family, kids. I don't want to have to be in the position where I care if the phone stops ringing. I'm OK about potentially not acting." Even with a successful career and more opportunities on the horizon, it's clear he'd give it all up for his kids. It can be easy to feel pressured and stressed from balancing your career and family while fighting to stay financially stable, but keep in mind what you're working for and what's most important.
Enjoy Playing While It Lasts
Though Hemsworth plays, in a way, for a living, he loves engaging his brood's active imagination. Playing with little kids can be incredibly fun when you get into it, so, he suggests, go for it before they grow out of it. Get goofy. During an interview with Parade, he said that playing with your kids changes you, or, rather, reawakens a part of you that's been dormant. He said,
I think [parenthood] brings out the child in all of us. That's what's so beautiful. It reminds you of the fascination you had with things, and how you can spend hours just being with someone. It's amazing.
Let Yourself Change
Becoming a parent changes everyone, in some way. In an interview with E! News, Hemsworth said to just go along with those changes. More often than not, they're for the better. When he became a dad, he became less selfish and more discerning when it comes to how he spends his time — especially his time away from his family. He said,
I think it makes you less selfish, because it's no longer about you. It can't be. It's about someone else, which is refreshing. It's nice to not spend all your time thinking about your own problems and garbage up there and I just have so much fun doing it. It's the best. And now I'm a bit more choosy, I think, with when I work and how I work because it better be worthwhile to take me away from them.
Get Involved
When tragedy struck, Hemsworth didn't run for his superhero cape. He ran to the store to buy everything he needed to bake his daughter's birthday cake. USA Today reported that when the bakery couldn't finish the special cake in time, Hemsworth jumped to action. He put a photo of the amazing dinosaur birthday cake on Instagram and captioned it:
What happens when the bakery says they don't have time to make your daughter a birthday cake? You get involved and smash one out yourself ! I call it "La TRex al la chocolate"
His wife posted the above photo and wrote, "Papa working hard on India's birthday cake!" Don't be distant when it comes to your kids. Take a hands-on approach; they'll thank you for it.
Organize Family Adventures
The older kids get, the harder it is to get them all together as a pack. When they're young, take the opportunity to get out there and explore as a family. It may seem daunting or logistically difficulty to mobilize everyone, but it pays off. Pataky posted this photo of her family out and about together at a festival. She captioned it, "together everything is better!#bluesfest #family #dancing #love #kids#music 💪💃👏😝"
While Hemsworth is still a new dad, relatively speaking, he's definitely learned some valuable tricks of the trade. Most importantly, when it comes to parenting, be yourself, spend time with your kids, and everything else will fall into place — whether you've got superpowers or not.