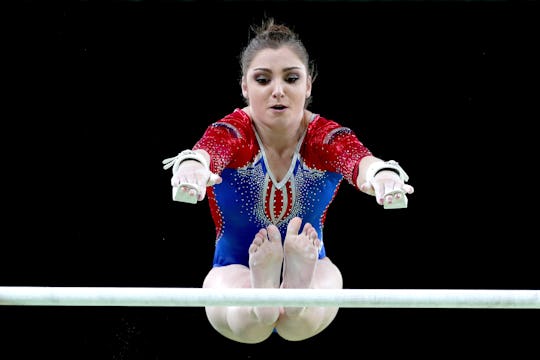 Tom Pennington/Getty Images Sport/Getty Images
4 Facts About Aliya Mustafina, Because The Russian Gymnast Is One To Watch
Women's gymnastics, one of the most highly-anticipated events of the Summer Olympics, is fully underway now, and U.S. fans are starting to get to know the other competitors. A few of them have pretty interesting back stories, so take a moment to learn a few facts about Aliya Mustafina, the Russian gymnast that's making Team USA nervous.
The list of Russian competitors is notably short this year, due to a state-sponsored doping scandal that led to a number of Russians being barred from participating in Rio's 2016 Olympics. That means there's a lot more riding on Mustafina, as less of her countrymen and women are with her to share the burden. And although the spectacle of the scandal has deeply affected some players – People notes that swimmer Yulia Efimova was booed on Sunday during her first race – Mustafina told USA Today that she hasn't been treated any differently, perhaps because gymnastics was one of the few sports that wasn't caught doping.
Still, Team USA is the favorite to win the women's team all-around, and Mustafina seems nervous: "It's going to be really difficult to compete against the American team, " she told the paper. "They are unbeatable at the moment." But don't count her out yet.