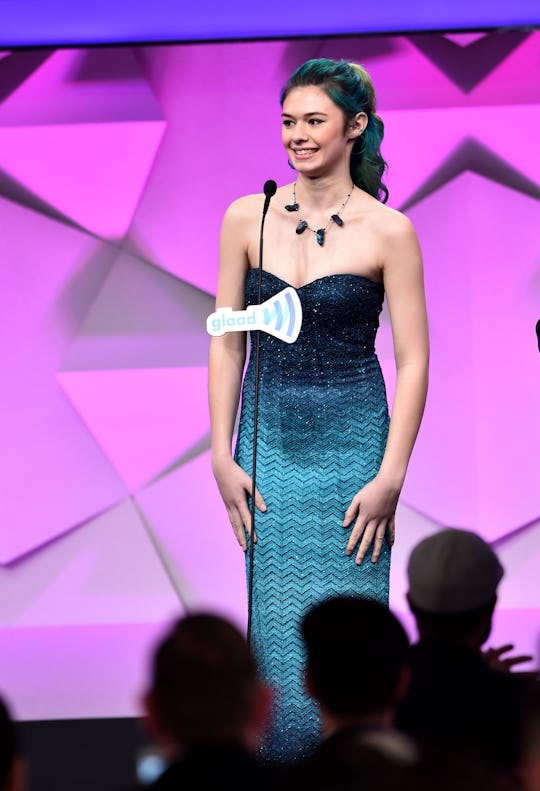 Alberto E. Rodriguez/Getty Images Entertainment/Getty Images
4 Inspirational Transgender Youth Who Have Fought For Their Right To Be Themselves
Talk of the bathroom bill has been taking over the country lately, and LGBTQ activists have gotten a boost from some pretty high-profile names: Beyoncé, Bruce Springsteen, Ringo Starr, Demi Lovato. Now, President Obama has stepped in and issued a transgender bathroom decree, saying that public schools must allow students to use bathrooms that align with their gender identity. It's a big victory for LGBTQ youth, and one that activists have been campaigning for for a long while. To give credit where it's due, here's four inspirational transgender youth whose fight for their rights has helped lead up to this.
The "bathroom bill" of North Carolina — aka HB2 — has been called a "constitutional monstrosity" for discriminating against LGBTQ people in its state, since it prohibits transgender people from using gender-separated bathrooms that align with their gender identities, rather than with the sex printed on their birth certificates. However, HB2 is far from the only discriminatory challenge that LGBTQ have had to face in past years, and many transgender youth suffered bullying and discrimination throughout their time in school. Here are some who are fighting for their rights, however, and helping forge a path for others.
Nicole Maines
Nicole Maines knew ever since she was 2 years old that she was supposed to be a girl. After she began presenting as a woman in elementary school, Nicole was bullied so badly that her family moved three hours away to give her a fresh start. In the fifth grade, Nicole was forced to use a staff restroom, but when she and her family filed a civil suit, they made history: it was the first time a state high court ruled that a transgender person should be allowed to use the restroom that aligns with their gender identity. Her story was documented by Amy Ellis Nutt in Becoming Nicole, and Nicole recently gave a beautiful TED Talk to share her story.
Jazz Jennings
Fifteen-year-old Jazz Jennings has been everywhere: she was on TLC last year with her show All About Jazz, she shares videos on YouTube, she takes the stage to speak about her experiences as a transgender teen at events, she's written a memoir, and she's the face of Clean and Clear's "See the Real Me" campaign. She's a tireless advocate and fearless in sharing her story with those on similar journeys.
Lila Perry
Being scrutinized in high school is hard enough without having hundreds of students stage a walk-out due to your use of a locker room. When Lila Perry began presenting as a woman at 17, students and parents caused a media firestorm when she began to use the women's locker room at school. Although she eventually dropped gym class due to the protests, she spoke to The View about her experiences, and Perry has praised how well her school dealt with the conflict.
Blake Brockington
Blake Brockington was the first out trans homecoming king in a North Carolina high school, and he spoke out for the rights of transgender and black youth, working with civil collectives and participating in marches. His parents rejected him after he came out at 17, which led him to live with a foster family, and his sophomore year was difficult.
"It was pretty black and white; there was no gray area," Brockington told QNotes. "It was either they were really supportive or really not supportive, and it's still like that. ... They're like, 'You're not a boy. This isn't your name. We're not going to call you that.'" Brockington died by suicide last year, but left a long legacy behind.
Being open and honest about an often-criticized topic helps break barriers, especially when teens see it done among peers. These teens have helped others share their stories and be true to themselves, making the world a friendlier place in their wake. They've helped shape a country that rallies when a state tries to pass discriminatory laws, and they're the ones we should be celebrating in light of Obama's transgender bathroom decree.