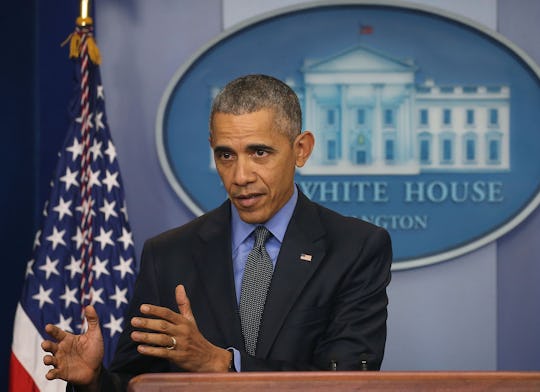 4 Inspiring Quotes About Climate Change Progress From President Obama's Year-End Speech That Make It Clear He's Not Giving Up
On Friday, President Barack Obama held his year-end news conference, where he tackled the issues of the year and made a couple of witty quips about Star Wars (because the president's got his finger on the pulse, people). But his best comments came after a journalist asked him if he was worried that a Republican president could undo American goals set forward in the Paris climate deal. The reporter also wondered if Obama would publicly support 2016 Democratic candidate because of the danger that Republicans could pose to his climate change progress, but he didn't reveal much except that he's extremely confident that his progress won't be undone.
At the climate conference in Paris, the United States joined a coalition of countries that pushed to move beyond the minimum goal of keeping the country from warming no more than two degrees Celcius. Obama said the climate conference decided to limit global change in temperature to 1.5 degrees Celsius instead. In addition to that commitment, Obama gave four additional reasons why he isn't afraid that his work on climate change will be undone.