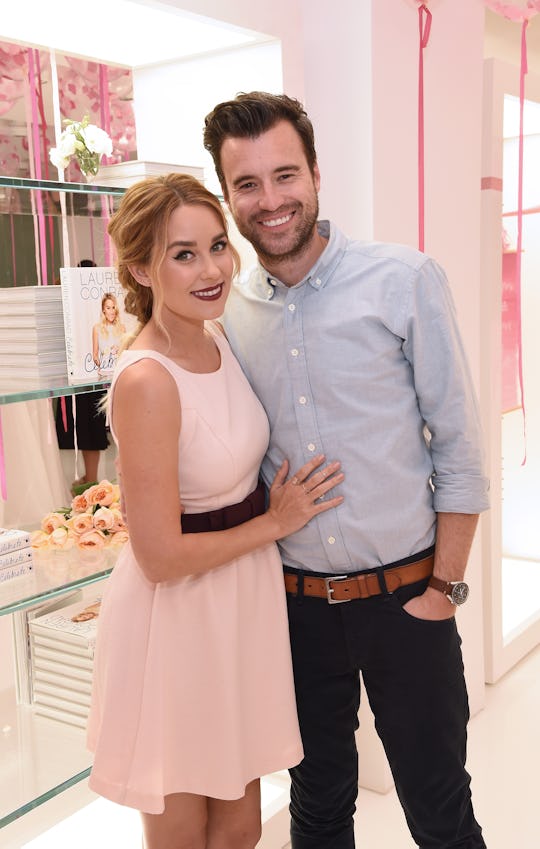 Larry Busacca/Getty Images Entertainment/Getty Images
4 Lauren Conrad Quotes About William Tell
Lifestyle maven and former Hills star Lauren Conrad announced on Sunday with an Instagram post that she and her husband William Tell are expecting a baby. This is the first baby for the couple, who were married in an ultra stylish ceremony in September 2014. To celebrate the happy news of the growing Conrad-Tell family, here are four choice Lauren Conrad quotes about William Tell and their relationship that will give you all the relationship goals and remind you Conrad will always be a Pinterest -perfect queen.
Tell is a musician who studied Law at USC and got his start with alt-rock band Something Corporate in 2001, according to E! News. Conrad announced the new addition to the family with a simple and sweet ultrasound picture of her growing baby with the caption, "Happy New Year! I have a feeling 2017 is going to be the best year yet..."
Fans can only guess about the super stylish pregnancy and mom looks Conrad will likely be rocking in the weeks and months to come, which you will surely be able to shop and steal with abandon on on Conrad's blog.
Here's the Instagram announcement from Sunday:
But before the baby comes, here's a look at some of Conrad's best quotes on her marriage to Tell.
1. On Compromise
"I have a collection of teacups I display in my dining room," Conrad told Redbook, according to ET Online. "My husband doesn't get why I love them so much. To be fair, I don't share his passion for guitars. I mean, I guess I can understand why he might not see the beauty in a gorgeous, hand-painted teacup. We each have our own things, and that's healthy."
2. On Becoming A Family
"It's been wonderful so far," she told Us Magazine in 2015. "I think it's really different for everybody. For us it makes you officially family, which is really great, but as far as our relationship, we were really committed before, so it didn't change a ton."
3. On Why Her Husband Has Never Watched The Hills
While they were flipping through channels, Conrad told The Hollywood Reporter, the couple came across a scene on The Hills where she was telling Brody Jenner she was a regular at a hot pool party, hanging out there, "every Sunday." She said Tell quickly turned the channel, adding, "Nope, don't want to know that you."
4. On Her Favorite Part Of The Marriage
"My favorite thing about being married is knowing that I have a partner in life that I get to do so many wonderful things with," she said on a Q&A from her blog. "Dreaming of the things we will do 20 years from now is so fun."
Good luck to Conrad and her husband, and congratulations. It will be fun to see how Lauren takes on this latest chapter after watching her grow up in the spotlight.