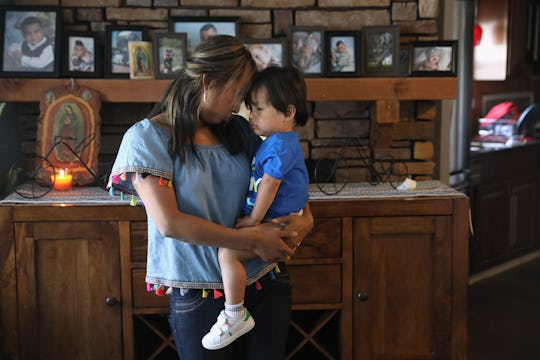 John Moore/Getty Images News/Getty Images
4 Laws That Punish Women For Having Children
Over the past decade, America has seen a resurgence in "pro-life," or anti-abortion, ideology. Not only is the U.S. government currently dominated with anti-abortion rhetoric and proponents, but more and more laws are being passed to satiate anti-abortion beliefs, which force women into parenthood. The irony is, anti-abortion lawmakers don't do much for mothers once their children are born. In fact, there a lot of laws that penalize women for having children. Here are 4 laws that punish women for having children.
Although America has seen some reform for women's rights, it still has a long way to go, especially when it concerns women who have children. Laws that punish women for having children are especially problematic because there are minors involved. It stands to reason that, by punishing mothers, you're also punishing children. The stakes are especially high for women who are single mothers, who are often the primary providers for their children's emotional and financial well-being. Unfortunately, laws that are harmful to women with children often ignore women who struggle to make ends meet or who are the victims of some uncontrollable circumstance.
Below are some examples of those hurtful laws used to punish women for having children.
Family Cap Policies
Over the past few years, family cap policies, aka "family caps," have seen more scrutiny for being biased and harmful to low-income mothers. Essentially, family caps, which are enacted in multiple states across the United States, deny mothers on welfare further financial benefits if they give birth to another child while receiving assistance. If a child is born after a mother applies for welfare, then this child can't receive benefits.
Deborah Harris, a senior staff attorney at the Massachusetts Law Reform Institute said of the state's cap, according to MassLive.com:
Approximately 9,400 children are excluded by the family cap, and the result of that is that their families don't receive any cash assistance benefits for them, even thought they're extremely poor. The consequences of that kind of extreme poverty are very severe.
Jamelle Bouie, a writer for Slate, described the detrimental law as such:
Family caps were designed to make life more difficult for low-income mothers, to thrust them deeper into poverty, and thereby discourage births.
Although California and a few other states have revoked their family caps laws, there are plenty of other states that financially punish moms for having more kids. No mother should be pushed deeper into poverty for having another child. Instead, lawmakers should support mothers and families no matter their financial circumstance.
Parental Rights For Rapists
Parental rights for rapists might be one of the most upsetting legal concepts out there. In some states, like Maryland and Alabama, a woman is required to coparent with her rapist. When you consider many lawmakers are trying to make abortion illegal, the logic here is doubly frustrating. If you force a woman to give birth to a child conceived as a result of rape, then you're adding salt to the wound by forcing her to coparent the child with her rapist. Parental rights for rapists are punishing moms for not only having a child — but for being raped.
Despite the fact that it's 2017, an all male committee in Maryland ruled to keep a policy that "a woman who conceives after a rape will still be legally required to negotiate with her rapist over custody should she decide to keep the baby, or include her rapist in any decisions regarding putting the baby up for adoption," according to HuffPost. Not only is this policy emotionally traumatic for moms, but it's simply unfair. It's definitely hard to see how this law isn't simply a punishment for moms as opposed to a law based in legal merit.
The Equal Pay Act Of 1963
In 1963, the passage of the Equal Pay Act was seen as landmark win for women across the country. Unfortunately, the EPA has a ton of legal loopholes that makes it somewhat pointless to women as well as single moms. The EPA allows men to be paid higher wages than women based on seniority, merit, productivity, and other factors, according to The U.S. Equal Employment Opportunity Commission. In this case, it makes it difficult for a woman to make an argument that she was paid less than her male counterpart due to gender. This being said, it's no surprise why the gender pay gap hasn't evened out much since the EPA's passage.
In a not-so-surprising twist, the EPA is just another law used to punish moms for having children, especially those who are single. Considering women work more low-wage jobs then men, their financial burden is doubled when they have kids. Thanks to the legal loopholes present in the EPA, women are working such low-paying jobs that they struggle to qualify for Unemployment Insurance benefits if they are laid off, according to The National Employment Law Project. To make matters worse, a woman can't receive benefits if she leaves a job for childcare reasons, according to PennLive.com.
In an article for The Nation, Greg Kauffman said:
... However, because single mothers so often work in low-wage jobs—and the average benefit is around half of prior earnings—benefits are often meager. Further, single mothers in the United States are less likely to qualify for any benefits at all—their low-wage work often doesn't meet minimum earnings requirements, and leaving a job for childcare reasons disqualifies a worker from receiving benefits in some states. In 2010, 44 percent of all unemployed persons in the United States received unemployment benefits, but only 24 percent of unemployed single mothers.
Until the gender pay gap is rectified, more moms will continue to endure major financial hurdles for each child they have. To make matters even more concerning, women with children not only have to face the gender pay gap, but they also have to tackle bias known as the "motherhood penalty." The "motherhood penalty" is when a woman faces unjust scrutiny and missed opportunities in the workplace as the result of having children. According to Time,
... every child born to or adopted by a woman decreases her income by 4 percent such that the average mother makes between 5 and 10 percent less than she would have otherwise. A man's income, in contrast, goes up by 6 percent. They see a "fatherhood premium." Becoming a parent harms women's earning potential and, in an extra twist of the knife, it gives men an assist.
Better Care Reconciliation Act
Although the Better Care Reconciliation Act (BCRA) has yet to be passed, it's a harmful law for moms if it does come to fruition. If you're a mom who suffers from conditions like postpartum depression, then the BCRA is especially dangerous.
According to BuzzFeed News, the proposed BCRA would cut medicaid funding by $1 trillion over the course of a decade. The cuts would be especially damaging to moms who suffer from postpartum depression, as Medicaid is the largest payer for mental health services. Considering "1 in 9 women experiences postpartum depression," according to Centers for Disease Control and Prevention, it's clear the BCRA is yet another policy that leaves mothers out to dry when they need support.
Being a mother and parenting a child is no easy task. Unfortunately, some lawmakers seem intent on punishing moms simply for having kids in the first place, therefore doubling the pressure already upon them. If America continues to enact these hurtful laws, it will become a pro-birth nation without recourse. If anti-abortion lawmakers really care about life after birth, then they should reconsider the work they're doing to support American mothers.