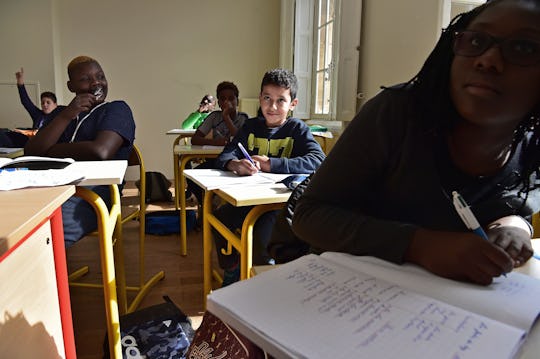 CHRISTOPHE ARCHAMBAULT/AFP/Getty Images
4 Outfits You Won't Believe Violated School Dress Codes
Growing up, I was privileged. I went to a specialized public art high school in New York City that encouraged students' self-expression. The school would even hold Halloween parades that saw students bending gender and wearing wild outfits. If the school had a strict dress code policy, I can't remember it being enforced. But not every teenage girl is lucky. Some are even being sent home for clothes that would be considered modest in the workplace. Need proof? Here are just four outfits you won't believe were against school dress codes.
Scour the internet, and you'll find case after case that show school dress code policies are sexist and disproportionately affect girls. Whether a female student is wearing yoga pants or a skirt that hits right above the knee, school officials seem to give one common reason for issuing violations: The girl's outfit is distracting to boys. It's a rationale rooted in puritanical and participial thought, and reduces teenage girls to nothing but body parts.
Even teenage boys have come to recognize the ridiculousness of these sexist body-policing policies; according to Teen Vogue, male students at one high school in California started protesting the dress code last month by wearing off-the-shoulder blouses. Why? Because, as Teen Vogue reported, the guys believe "women should be able to wear what they want." If only these four schools felt that way.
This Blue Romper
I'm not a fan of rompers — at least not on me. But I can say objectively that there is nothing inappropriate about a person wearing a romper to work, to school, out on the town, or wherever the hell they want to. Apparently, though, school officials at a middle school in Los Gatos, California, disagree. According to CBS News, 13-year-old Demetra Alarcon was sent home on Aug. 28 for wearing a simple blue romper. Why? Because a teacher felt it was "too short" and "distracting boys." Her father, Tony, brought her a tank top with spaghetti straps and shorts (after all, it's California and it's hot), but that outfit allegedly violated dress code policy too, CBS News reported. So what did Alarcon end up wearing? Leggings, in 90-degree weather.
Alarcon's father, though, is fighting the dress code policy for being sexist and discriminatory towards girls. According to the San Jose Mercury News, he believes the dress code "goes too far," and that whether or not clothes are a "distraction for boys ... shouldn't be a concern." (Because, duh.)
He told the Mercury News,
The dress code should require clothes to cover body parts—nothing should be hanging out—I agree 100 percent. But wearing spaghetti straps and tank tops does not make them disrespectful or inappropriate.
This Blouse
As a large-breasted chubby woman, this particular incident infuriates me about all else. According to ABC 7 Chicago, earlier this month, Missouri high school student Kelsey Anderson had been told by a teacher that her shirt violated dress code because "bustier women need to wear clothing that cover their cleavage." Anderson's mother, Melissa Barber, recounted the situation in a public Facebook post, and wrote that the teacher also said to Anderson that "plus size women need to dress accordingly." ABC 7 Chicago reported that the school is investigating the incident.
Some students dispute Anderson's account, and have taken to social media to defend the teacher and her actions. USA Today interviewed two students who claimed a photo exists where Anderson is shown wearing a shirt that showed her midriff, and that's possibly why she was dress coded. But, as USA Today reported, those students weren't in the classroom when the incident happened. And, according to the outlet, Angel Xenia Oviedo, the student who took the photo, said she snapped the shot while they were in the bathroom, and that Anderson had tucked her shirt before leaving.
Whether or not Anderson showed a little midriff is not the point, though. As Oviedo told USA Today,
Even if Kelsey was breaking dress code, the teacher was still in the wrong. At the end of the day, Kelsey's confidence was crushed and that's what matters. No student should ever be sexualized, body shamed or called out on something so personal in front of the whole class.
This Sporty Top
Some school dress code policies have a fingertip rule: If you're wearing a dress, skirt, or long shirt, it must reach below your fingertips when your hands are held straight at your sides. The front and back of Macy Edgerly's sporty top met that rule, but the side scoops did not — and for that, the high school senior was sent home back in April 2015, according to TODAY. Her sister, Erica, took to Facebook to vent about the situation, and criticize how female students are continually body shamed and forced to cover up to "minimize distractions." In her original post, Edgerly's sister wrote, according to TODAY,
People wonder why women feel insecure about their bodies or what they wear.. And it's beause [sic] you're told your clothing is inappropriate when you're completely fully clothed, even when you're not showing cleavage or anything. How about instead of body shaming women, school systems should start teaching 15-18 year old boys to stop degrading women with their eyes and contributing to the rape culture of today's society.
This Tank Top
I don't even know how to wrap my mind around this dress code violation that happened in August 2015. According to Seventeen, Stephanie Hughes, a high school student in Kentucky, was sent home for an outfit that, in all honesty, I would have hanging up in my closet (jeans, a tank top, and a long sleeve cardigan — modest, but chic). So for what reason, then, did Hughes get dress coded? Because Hughes dared to reveal her collarbones. That's right: As her mother recalled on Facebook, Hughes was told she violated her school's dress code policy because when a female student shows their clavicle, they "may district their male class mates [sic]." The Kentucky school in question literally has a policy dictating the visibility of collarbones.
According to Huffington Post, the school's principal, Rob Akers, said that sexual harassment reports among students prompted stricter dress codes. (Akers wasn't principal when the policy was implemented.) But here's my rebuttal: Why are school administrators focused on what girls wear instead of teaching students not to sexually harass their classmates? Why are officials focused on a girl's clavicle rather than the fact that they have a sexual harassment problem in the first place? (Romper reached out to Akers for comment but has not heard back in time for publication.)
A girl's collarbone is not why a boy is distracted in class. He's distracted because, instead of being taught to treat his female friends with dignity and respect, he has school administrators telling him indirectly that it's OK to treat girls pieces of meat. He can't help it, right? He has raging hormones, right?
Wrong. So freaking wrong.