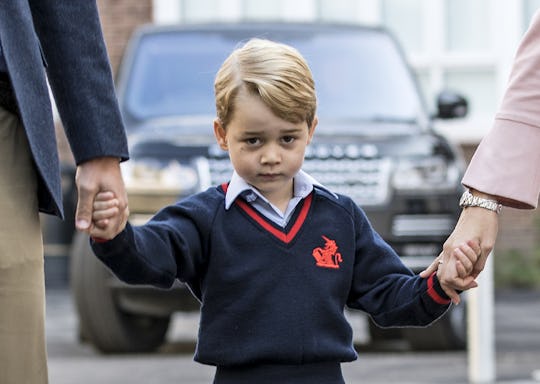 RICHARD POHLE/AFP/Getty Images
4 Prince George Costumes For Toddlers That Are Royally Adorable
Now that it looks like Prince Harry is taken, you may have lost your one chance to make your way into the royal family. But just because you won't have a chance to be a real life British princess doesn't mean that your kids can't play pretend to be a part of royalty. If you want to turn your toddler into a prince for a day, you're going to need some ideas to put together a Prince George costume for your child this Halloween.
If you're going to dress your little prince as George, you're going to have to pick some pretty dapper duds. As a matter of fact, George was ranked 49 on GQ's 50 best dressed men in Britain list in 2015 — and for a list that includes the likes of David Beckham and Tom Ford, that is no small feat. When it comes to dressing like a royal toddler, classic pieces and neutral colors are everything — most of George's best looks include oxford shirts, khakis, and tailored coats. And while you may not be able to hit up Harrods to buy the things you need to put your Prince George costume together, basic school uniform tops and bottoms can make a great substitute.
As the only son of Prince William and third in line to the throne, Prince George of Cambridge has some serious royal clout. Not only that, he's got to be just about the cutest little preschooler around, making him a natural choice to inspire your toddler's Halloween costume.
Check out this list for inspiration on putting together the perfect royal look for your little prince and get ready to charm everyone you meet on your trick-or-treating route.