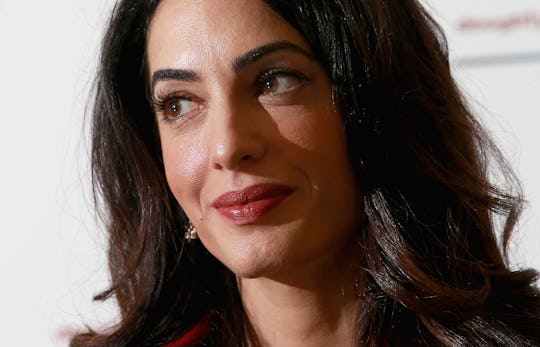 Chris Jackson/Getty Images Entertainment/Getty Images
4 Reasons Amal Clooney Will Be An Amazing Mom
Ever since news broke that George and Amal Clooney are expecting twins, excitement has been at an all time high and lots of people already know what great parents they will be to their first children. For example, the actor's mother told Us Weekly that she can't think of "two people who would be better parents" and his longtime friend and Ocean's series co-star Matt Damon told Entertainment Tonight Canada that "they're gonna be awesome parents." There's clearly no doubt in anyone's mind that the power couple will make an incredible parenting team. But, what makes them such a strong pair is that they'll also be wonderful role models for their children individually as well and here are four reasons why Amal Clooney will be an amazing mom.
1. She's Incredibly Successful
The 39-year-old human rights lawyer, who tied the knot with husband George in 2014, has an incredibly impressive resume. Throughout her law career, she has worked with many high-profile clients, including WikiLeaks founder Julian Assange for his fight against extradition and the notable Enron case, according to Forbes.
The British-Lebanese lawyer, scholar, and author is passionate about women's rights and has spoken about it at length around the world. "The worst thing that we can do as women is not stand up for each other," Clooney at the Texas Conference for Women in November 2016, where she talked about the thousands of victims sex slavery and genocide at the hands of ISIS, according to Vanity Fair. "If we keep up the fight for women's rights, I believe there is nothing we can't do."
In short, her children will never need to search for inspiration with an intelligent and passionate mom like her.
2. She's Been Inspired By Her Own Mother
According to People, Clooney believes she had the perfect role model growing up.
"I think growing up my mother was definitely a role model, she was always a working woman and someone who is independent and cared about her career and cared about being independent but also had balance," she said last year of her mother Baria, who is a prominent journalist, according to People. "She never lost her femininity and she believed the balance was important and that is something that stuck with me."
3. She Has A Great Support System
While her husband George normally keeps pretty quiet about his personal life, he has certainly gushed about how incredible he thinks his wife is. Moving into this next chapter of their lives, this type of bond is a great foundation as they become a parenting team.
"She's an amazing human being. And, she's caring," Clooney said during an Entertainment Tonight interview in 2015 . "And, she also happens to be one of the smartest people I've ever met. And, she's got a great sense of humor."
4. She Knows How To Silence Critics & Shut Down Sexism
Whether Clooney has sons, daughters, or one of each, it's very clear that her children will be raised with a mentality that praises women for their minds and accomplishments. Clooney is undoubtedly beautiful, but she doesn't let that or her fame outshine her intelligence and success.
According to Mic, back in 2015 the soon-to-be mom perfectly shut down a sexist paparazzi with only five words while she was representing Armenia in a case over complicated human rights issues and was asked which designer she was wearing. "I'm wearing Ede & Ravenscroft," Clooney simply responded, referencing to the centuries-old clothier known for ceremonial robes and wigs, according to Mic.
As a mother, you live and breathe the well-being of your children and Clooney's upbringing and her career proves that she's already been doing that for years. And with a parenting partner like her talented and accomplished husband, they will certainly be an incredible team as they welcome their babies to the world.