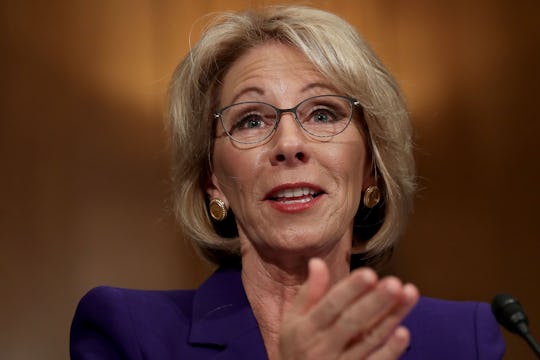 Chip Somodevilla/Getty Images News/Getty Images
Why Parents Should Care About Betsy DeVos
President-elect Donald Trump's education secretary nominee Betsy DeVos had a confirmation hearing Tuesday night, where she was expected to answer questions from members of the Senate Health, Education, Labor and Pensions Committee about a variety of issues related to education. DeVos's nomination has been controversial though, and unfortunately for her supporters, she didn't exactly do a great job during her hearing when it came to proving that she's actually fit for the job. While the committee has yet to officially confirm DeVos, the outcome is one that will no doubt affect families all over the country, and that's why parents should care about Betsy DeVos as secretary of education.
Like many of Trump's Cabinet picks, DeVos is a billionaire who has no experience in public office, but that's not her critics' only concern. A self-described "firm believer" in parents' rights to choose their children's learning environment, DeVos has been criticized for her decades-long lobbying in favor of allowing taxpayer-funded vouchers to be used towards private and religious schools, according to The Washington Post. Her family has also reportedly contributed huge sums of money to the Republican Party, as well as to other groups, some of whom have been fighting against government policies meant to reduce campus sexual assault and ensuring LGBTQ rights, according to The Guardian (a rep for DeVos did not immediately return Romper's request for comment). But while DeVos's hearing could have been a chance for her to prove her detractors wrong, it really just seemed to raise a lot more questions.
She Lacks Experience (And Even Familiarity) With The Public School System
In her confirmation hearing speech, DeVos vowed to be "a strong advocate for great public schools," while also advocating for parental choice, according to The New York Times. But one major criticism about DeVos is that, despite being poised to make major decisions about public education, she actually has no professional experience whatsoever in the public school sector, and hasn't even sent her children to public school — or attended one herself — for any period of time, according to The Washington Post. While no one would expect DeVos to be an expert in all areas of education policy before she's even taken the job, the answers she gave during her confirmation seemed to reinforce the idea that she isn't particularly knowledgeable about the important issues surrounding public education, so it's hard to see how she actually intends to advocate for public schools in a meaningful way.
One example? When asked by Minnesota Sen. Al Franken about DeVos' position on whether she felt school assessments should be used to measure proficiency or to measure growth — a major debate in education — DeVos didn't even seem to understand the question, according to CBS News. DeVos told Franken,
I think if I'm understanding your question correctly around proficiency, I would also correlate it to competency and mastery, so that each student is measured according to the advancement that they're making in each subject area.
The problem, though, as Franken pointed out, is that proficiency and "competency and mastery" are two separate things. Franken, who worked to replace the Bush-era No Child Left Behind Act with the Every Student Succeeds Act under the Obama administration, has argued that measuring growth (a student's actual improvement over time) is more important than simply measuring proficiency (whether a student has reached a particular benchmark, like a grade-appropriate reading level). Being able to articulate an informed view on the debate is going to be important for DeVos, because, if confirmed as education secretary, she will ultimately be expected to decide if the Every Student Succeeds Act should be changed — including whether or not schools are assessed based on growth, or just proficiency, according to Vox.
She Wouldn't Commit To Protecting The Rights Of Disabled Students
Another major issue that DeVos appeared to not actually understand is the Individuals With Disabilities Education Act (IDEA). According to the U.S. Department of Education, IDEA is a federal law that requires public schools to accommodate the educational needs of students with disabilities, and a version of this law has been in place since 1975, when President Gerald Ford signed the Education for All Handicapped Children Act into law. Specifically, it means that public schools must provide students with disabilities in all 50 states and the U.S. Territories with a free appropriate public education (FAPE), in the least restrictive environment (LRE) possible, with access to special education services as outlined in the student's Individualized Education Plan (IEP).
And that is really, really important. According to the National Center for Learning Disabilities, IDEA has ensured that more than 6 million students in the United States received special education services in 2011, and that they would be able to continue to do so to the same standard throughout the country. It has also meant that classrooms have become more inclusive, and that the rights of students with disabilities have been respected. According to the U.S. Department of Education, "nearly 60 percent of students with disabilities are in general education classrooms 80 percent or more of their school day," and IDEA has also allowed for the protection and proliferation of early intervention services for infants and toddlers with disabilities, with nearly 350,000 young children and their families receiving services meant to help them thrive.
IDEA is a long-standing federal law — and an important one — but it's another issue that DeVos appeared to be unaware of, according to The Huffington Post. When asked by Virginia Sen. Tim Kaine whether she thought all K-12 schools receiving government funding should be required to meet the requirements of IDEA, she replied, "I think that's a matter that's best left to the states."
Kaine wasn't impressed with DeVos' answer, calling her out on her reluctance to commit to protecting the right of students with disabilities:
So some states might be good to kids with disabilities, and other states might not be so good, and then what, people can just move around the country if they don't like how their kids are being treated?
New Hampshire Sen. Maggie Hassan — herself a mother of a child with cerebral palsy — also questioned DeVos on this point according to NPR, and noted DeVos' apparent fundamental lack of knowledge on the issue. When Hassan asked DeVos if she was unaware that IDEA was actually a federal law, DeVos replied that she "may have confused it."
After Hassan then urged DeVos to familiarize herself with the law, and why it is so important, DeVos told her, "Senator, I assure you that if confirmed, I will be very sensitive to the needs to special needs students and the policies surrounding that."
But, of course, hearing the nominee for education secretary claim that she'll be sensitive to the needs of special needs students while not actually appearing to be aware of what those needs are isn't exactly reassuring. And Hassan told her that, too:
With all due respect, it's not about sensitivity, although that helps; it's about being willing to enforce the law to make sure that my child and every child has the same access to public education. And the reality is the way the voucher systems that you have supported don't always come out that way.
She Doesn't Agree Schools Should Be Gun-Free Zones
In DeVos' defense, sitting for a confirmation hearing can't be easy. But given the importance of her post, and the consequences that could result from her decision-making, it's important that she is thoroughly vetted by the committee, and that they ask her tough questions. In one particularly surprising moment though, DeVos even took a pretty reasonable question — whether or not guns should be allowed in schools — and gave a rather puzzling answer.
According to The Washington Post, Connecticut Sen. Chris Murray asked DeVos during her hearing if she thought "guns had any place in or around schools" — an important question, especially given that Trump vowed during a Jan. 2016 rally in Vermont to "get rid of gun-free zones in schools," according to CNN, adding, "my first day, it gets signed, OK? My first day. There's no more gun free zones."
When questioned on his comment, Trump told CNN that he supported the idea of allowing "school resource officers" and trained teachers to carry guns, and argued that making school gun-free zones actually makes them less safe:
The problem with gun free zones is it's like offering up candy to bad people. They hear gun free zones and they go in there with their guns blazing.
DeVos seemed to agree with Trump that keeping schools gun-free was a bad idea — but not for the same reason. She told Murray,
I will refer back to Sen. [Mike] Enzi and the school he was talking about in Wyoming. I think probably there, I would imagine that there is probably a gun in the schools to protect from potential grizzlies.
She Doesn't Seem To Have Accurate Stats On Student Debt
Student debt in the United States is a big issue — just ask any student — and since DeVos would be expected to handle policy at the post-secondary level as well as K-12 if she is confirmed, it made sense that someone would ask about it. That someone was, once again, Minnesota Sen. Al Franken, and, once again, he was unimpressed with DeVos' knowledge.
According to CBS News, Franken called DeVos out on her claim that student debt in America has increased "1,000 percent." DeVos stood by that number, replying "980 percent in 8 years. That's almost 1,000," but according to Franken, she was way off:
It's increased 118 percent in the past 8 years. So, I'm just asking if you're challenging my figures, I would ask that you get your figures straight on education policy. That's why we want more questions, because we want to know if this person that we are entrusting, may entrust to be the Secretary of Education, if she has the breadth and depth of knowledge that we would expect from someone who has that important job.
Despite what many view to have been DeVos' poor performance during her confirmation hearing, it's still expected that she will be voted in. One factor working in her favor? According to Politico, DeVos and her husband, Dick, have given financial donations to a number of senators over the years who are now involved in confirming her nomination — and four of those are on the Senate committee itself.
But even if she hadn't, DeVos only needs a simple majority from the Republican-held Senate, and given that most of the criticism of DeVos is coming from Democrats, it isn't likely that it'll actually stand in her way.