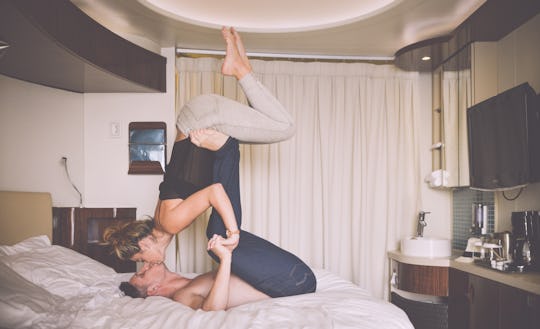 4 Reasons Why Sex Gets So Much Better After You Have Kids (No, I'm Not Kidding)
When I was growing up, someone circulated a rumor that life ends at conception. Yes, I typed that properly. It was a rapidly growing belief that from the moment you become pregnant, your life ends and everything becomes about your children. And to some extent, I'm just going to be honest: Yes, this happens. Having children changes your life. It bends you in ways you couldn't previously imagine; it dramatically alters your priorities. However, your life doesn't end when you get pregnant. It changes like a corn field at harvest, but it doesn't end.
You know what else doesn't end when you have kids? Your sex drive. Or, your sex life. While both are likely to — like every other part of your life — change after having kids, that doesn't necessarily mean the quality of either is diminished. While some women definitely do experience a drop in their sex drive, or a span of time when they are less able or less interested in making time to get busy, that's not always the case (and even when it is, it doesn't usually last forever).
For some women, their sexual cravings (and the frequency with which they feed those cravings) manage to emerge from the abyss of pregnancy and parenthood completely unscathed. In fact, for some women, sex manages to get a hell of a lot better after having kids. And I do mean, literally, orgasmically better. For so many more women than you might thing, the quality of sex after becoming a mom is like finally tasting chocolate ganache after thinking for years that fruit was the sweetest thing on earth. So if you've recently become conceptionized (yep, that's my new word for impregnated) then fear not! Sex of the past will remain in the past, but sex of the future stands a better-than-reasonable chance of blowing your mind. Here's why: