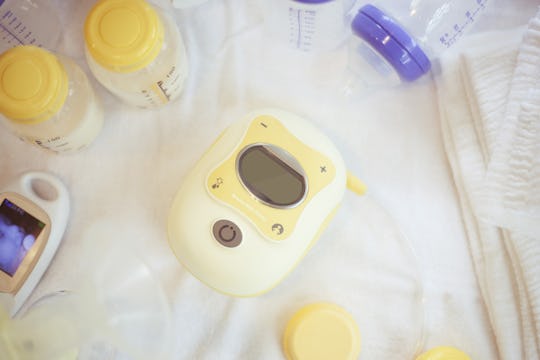 tiagozr/Fotolia
4 Reasons You're Not Getting Much Milk When You Pump That Have Nothing To Do With You
It's not an uncommon occurrence for moms who have no issues breastfeeding to find themselves struggling with the breast pump. Pumping, like nursing, takes practice. But if you've tried and tried and still have little success, there may be some reasons you're not getting much milk when you pump.
When my son was born, he had a difficult time latching. After a difficult birth and lots of tears (his and mine) we asked our nurse for formula because, frankly, I was too tired, young, and inexperienced to continue to try to get him on the breast. I decided that I would pump so that even if he was bottle fed, it would be breast milk. The first time I pumped I got more than four ounces of milk. Then, progressively, my pump would express less until I was pumping for two hours for one ounce of milk.
I was disheartened. Pumping was hard, breastfeeding was hard, and I was pooped. Sadly, I gave up trying to pump and my milk completely dried up a short time later. Years have passed and now I wonder if maybe my issues were not about my milk supply, but related to problems with my breast pump or hormones. I didn't know back then that there were women who nursed like champs but only produced a small amount of milk when pumping.
If you have the same issue, here are some reasons you may not be getting enough milk out of your pump that have nothing to do with you.