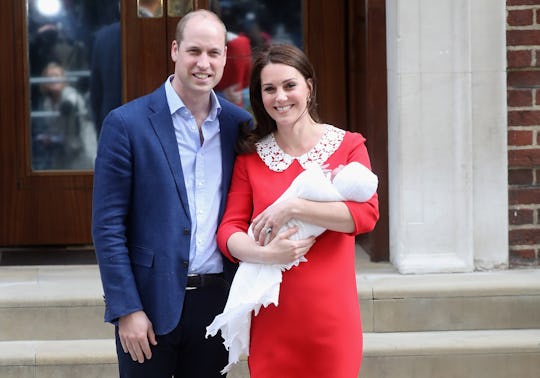 Chris Jackson/Getty Images Entertainment/Getty Images
4 Royal Birthing Rules Kate Middleton Reportedly Had To Follow
The world watched in awe Monday, as Catherine, the Duchess of Cambridge, emerged on the steps of the Lindo Wing at St. Mary's Hospital in London, looking impossibly poised and beautiful despite giving birth to her third child only hours earlier. Yet as much as the thought of wearing a dress, heels, and likely some kind of uncomfortable hosiery over her probably-still-contracting belly made women all over the world shudder in sympathy, the expectation that the Duchess pose for cameras immediately after childbirth isn't the only way her delivery was unique. There are actually four birthing rules Kate Middleton reportedly had to follow when it came to having each of her babies, according to The Mirror, because, well, sometimes even royal life has its trade-offs.
It's certainly no surprise that the British royal family is steeped in tradition, and despite growing up super privileged, even Middleton had a lot to learn about becoming a full-time member. At this point, she's perfected the art of the royal walkabout, can give confident speeches as the patron of various charity causes, and has also nailed the ever-so-important curtsey in front of the Queen, but as a mom, and as a human, I can't help but wonder if some of the royal birthing rules and traditions may have freaked her out as she was gearing up to give birth for the first time.
1. The Queen Must Be Notified First
One of the most notable rules surrounding the Duchess' birth experience is that it sounds like pretty much everything about it had to get the Queen's thumbs up. To be fair, that's probably true with most things in her life — royals must obtain the Queen's express permission to marry (she formally granted Prince Harry permission to marry Meghan Markle in March, according to Vogue), and there are also rules that dictate what the Duchess can wear, and when, according to Marie Claire (tiaras only for white tie or very formal events, hats for formal daytime events, and no short skirts basically ever). So when a royal baby is born? The Queen must be the first person to find out, according to The Mirror.
Perhaps because of that, the Duchess' delivery also seemed to be a relatively private affair. Despite the couple's close relationships with their parents and siblings, no additional family members were present at the hospital for the birth — though, according to Town & Country magazine, Carole and Michael Middleton did visit the hospital after the birth of Prince George in 2013. As for the unnamed baby prince? His first, and only, hospital visitors were his siblings Prince George and Princess Charlotte.
2. She Also Gets A Say In The Name
Trying to name a baby is a difficult task in general, but when your child also happens to be in line for the throne, its an even bigger deal. For one, well, you can't really just pick anything you want — it seems pretty safe to assume the royal baby won't be named Logan or Jackson, for example, despite their current popularity among British parents at the moment. But complicating matters further? The Queen also gets to have an opinion on the name.
Royal commentator Richard Fitzwilliams told BBC News that, although there may not be any official rules about what royal babies may or may not be named, the Duke and Duchess will likely stick to a traditional name with a family connection for their second son. And, according to Fitzwilliams, "the Queen [will] obviously be consulted" before the Duke and Duchess officially settle upon a name, though she likely wouldn't actually veto any choices. One thing that's for sure though? Fitzwilliams said, "she would certainly be aware of the name, long before any public announcement."
3. The Birth Plan Needs To Be Elaborate
If your birth is low-risk and your labor is going well, chances are you likely won't have a ton of people involved in your delivery. Not so though, when you are the Duchess of Cambridge. In fact, even getting to the hospital was a production: according to Harper's Bazaar, Middleton arrived by car through the back delivery entrance of the hospital, with two senior aides accompanying her and Prince William, and she was then "escorted by protection officers through a secure tunnel to the entrance of the Lindo Wing." From there she met up with her birthing team, comprised of two royal surgeon gynecologists, a consultant neonatologist, the Queen's personal physician, and multiple midwives.
In fact, according to Town & Country, the Duchess' full medical team was much larger: she had "a team of over 20 top medical staff on hand," throughout her pregnancy, all of whom were sworn to secrecy. And they were also on call for three entire months, just in case they had to be there for an emergency, or for the delivery itself. And if that weren't already enough people involved, Harper's Bazaar noted that there would have still been plenty of people waiting outside the birthing suite itself — multiple royal protection officers, the Duchess' private secretary, as well as her personal assistant and stylist, among others.
4. But The Hospital Stay Itself Is Short
The Duchess of Cambridge chose the private Lindo Wing for each of her three births, and it's easy to see why: the exclusive maternity wing is basically a five-star hotel you happen to give birth in. A basic one-night birth package in a Lindo Wing suite costs around $8,200, but it'll get you a private room with an en-suite bathroom stocked with "a good selection of toiletries and cosmetics," according to The Sun; a menu of chef-prepared meals, including wine and champagne; afternoon tea service; satellite TV and wifi; diapers and formula for your baby; and even "postnatal physiotherapy" for new moms. In other words, it sounds like actual heaven.
It seems like an understatement to say that the Duchess of Cambridge was probably given top-notch VIP treatment — even at a hospital where VIP treatment is basically standard — but unfortunately for her, it doesn't sound like she actually got to enjoy it. One reality of being the Duchess of Cambridge, after all, is that crowds of people camped outside to get the first glimpse of her with her newborn, and, well, they likely didn't want to wait for her to enjoy her cucumber tea sandwiches. As a result, Middleton was actually back at Kensington Palace seven hours after giving birth, according to People, which meant that almost right after delivering her son, her glam squad got to work making her inexplicably camera-ready. I mean, not even supermodels are expected to bounce back that quickly.
Honestly, as a mom myself, it's hard to even accurately assess whether or not the Duchess of Cambridge has the best gig in the world, or the worst. Thinking back to how I felt seven hours after giving birth, I can't imagine being expected to go out in front of the world and smiling with blown-out hair and a full face of makeup. But at the same time, she does have the luxury of going home to a literal palace with an actual team of household staff there to help her with her children and her general life responsibilities.
Either way though, there's no question that she pulled it all off beautifully, and hopefully she's now able to get the rest she deserves. And in the meantime, at least the rest of us can console ourselves with the fact that we don't have to push our babies out while a sea of long-lens photographers and cheering strangers wait anxiously out on the street below.
Check out Romper's new video series, Bearing The Motherload, where disagreeing parents from different sides of an issue sit down with a mediator and talk about how to support (and not judge) each other's parenting perspectives. New episodes air Mondays on Facebook.