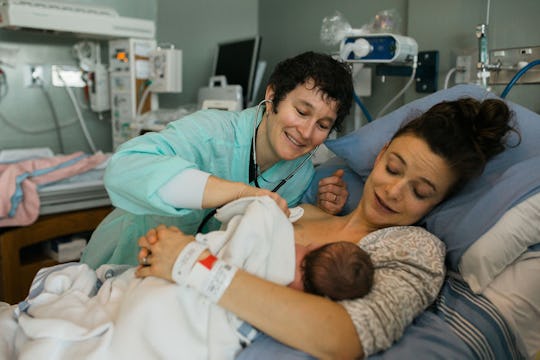 Rob And Julia Campbell/Stocksy
These Are The Surprising Things You're Doing That Could Really Annoy Your Doula
Doulas tend to be very nurturing, supportive, empathetic individuals. Yet, that doesn't mean they're not human. Even doulas get exasperated sometimes. So if you're wondering what surprising things you're doing that annoy doulas, you need to read this.
I knew very early on in my first pregnancy that I wanted to work with a doula. I was interested in having an unmedicated birth, and I knew that having a birthing guide by my side would help with that. But finding the right doula took some work. The process felt like a weird mix of speed dating and job interviewing. After numerous phone calls feeling out different candidates, I met with my top three picks in person. Thankfully, I totally "clicked" with one of them, and selecting her turned out to be a great decision. But I'm not going to lie, turning down the other doulas was a bit awkward. And I'm guessing that doulas don't love investing their time, only to hear "thank you, next."
"Imagine if every job you did you had to interview. It's stressful," explains Adriana Lozada, advanced certified birth doula, and host of the Birthful podcast, in an interview with Romper.
So, what else do doulas vent about after the end of a long day? If you — or your partner — is guilty of any of the actions below, your doula could be a little irked.