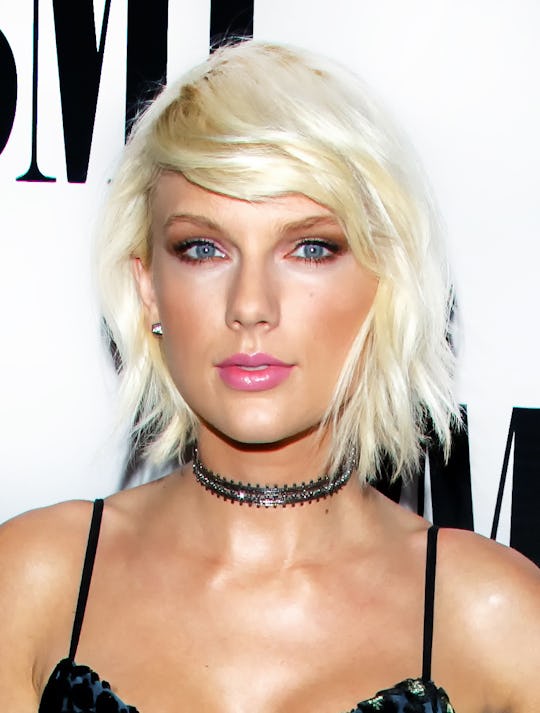 Mark Davis/Getty Images Entertainment/Getty Images
4 Taylor Swift & Tom Hiddleston Theories That Show Why Their Relationship Could Be Fake
Are fans all being duped by Hiddleswift? Does it serve them right for being too focused on Taylor Swift's love life instead of her accomplishments as a young, independent, and accomplished performer? Or is the founding #GirlSquad member just toying with her public persona? I mean, maybe the new, ultra high-profile relationship between Swift and Tom Hiddleston is a legit fairy tale kind of affair, but just in case you're sensing something is up, here are four Taylor Swift and Tom Hiddleston theories that might mean the whole thing is just for the cameras.
It was this weekend's Fourth of July festivities at Swift's massive Rhode Island beach house that really set the Hiddleswift truthers on fire. See, Hiddleston turned up at the party wearing a laughable "I (heart) T.S." tank top and temporary tattoo of a heart with a "T" in the middle of it. The two definitely looked as lovey-dovey as two people can possibly be, but the whole lovestruck look on Hiddleston was so corny, casual observers had to wonder if it was staged solely for the cameras' benefit.
I mean, come on!
So here are some juicy theories about the romance.
1. It's The illuminati, Because Of Course
Because some people just assume the Illuminati is behind everything.
2. The "Paparazzi" Shots Of #Hiddleswift Are Staged
The landscapes the two are photographed in constantly are too beautiful not to be staged. Also, E! Online reported that all of the couple's photos have been taken by the same agency as they've jetted all over the world on what looks like the most romantic vacation imaginable. Can it just be a coincidence that the lucky agency has been on the spot for all of these magical images? No way.
3. Hiddleswift Are Filming An Elaborate Music Video
It's been a pattern throughout Swift's career, according to E! Online and other observers, that she drops an album every two years, and typically in the fall. But, usually, the new album release is proceeded by a single that she releases just two months before the official album. The timing of the fresh romance between Swift and Hiddleston would match up with the production of a new music video, observers are suggesting.
Because why else would the paparazzi shoot in high definition?
4. The Two Are Teaming Up For Publicity
The Emmy's, BuzzFeed reported, are in September, and Hiddleston is rumored to be up for an award for his performance in The Night Manager. If the two wanted to raise each others' profiles to boost their careers, a high-wattage relationship would certainly grab enough headlines to help both Swift's record sales and Hiddleston's profile leading up to the Emmys.
I want to believe Swift's rebound following the Calvin Harris breakup is legit, but there is mounting evidence the public might just be getting trolled. Fans will have to wait and see if there's an epic video featuring Hiddleston coming their way in the near future.
But in the meantime, Hiddleswift is definitely a picture-perfect romance.