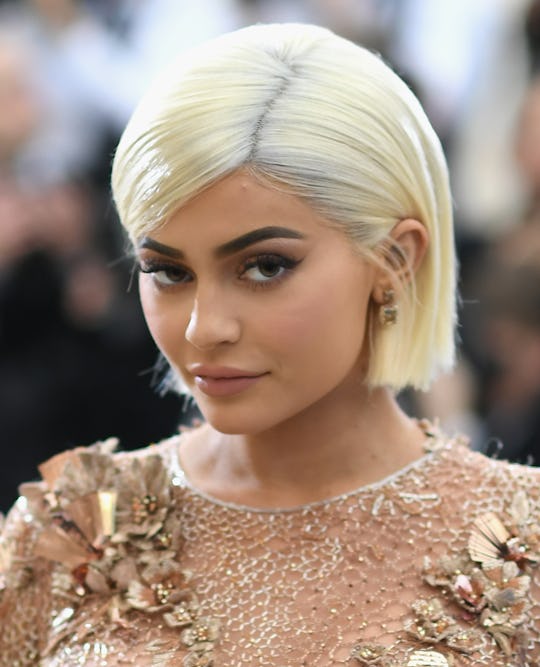 Dimitrios Kambouris/Getty Images Entertainment/Getty Images
4 Theories About Kylie Jenner's Rumored Pregnancy — Debunked
Listen, you're lying if you say that you know nothing about a certain reality television star's rumored pregnancy. And if you claim that you truly don't care, then don't worry, your secret is safe with me. But, no matter how invested you are, these theories about Kylie Jenner's rumored pregnancy have actually all been debunked, and that's kind of important to remember as fans continue to dissect every "clue" out there. After all, Kylie herself has yet to actually confirm the news, and neither has anyone in her family.
So, with little to no actual news out there, it's understandable that fans and the internet in general has taken to over-analyzing literally everything Kylie does. Seriously, Kylie has become somewhat of a recluse since the news of her pregnancy broke, at least as far as fans can tell, and people have taken that to mean a variety of things.
While there are definitely a lot of unknowns out there in regards to Kylie's rumored pregnancy, there are actually a few things out there that have been confirmed not to be true. Of course, it's impossible to know whether or not Kylie is even pregnant, or if it was all just a misunderstanding that she just hasn't felt the need to weigh in on. And considering the fact that not one, but two of her sisters are expecting babies of their own, is it possible that this rumor just kind of... happened? Definitely hard to know for sure, but here are all the theories about Kylie's rumored pregnancy which have been definitively debunked.
Let's Get One Thing Straight — She's Not Kim's Surrogate
In July, it was confirmed that Kim and her husband, Kanye West, were expecting their third child via surrogate. Then, when news that Kylie was reportedly pregnant began circulating in September, some fans started to wonder if she was actually carrying her sister's baby. But, that theory has been put to rest. As Us Weekly reported:
A source previously told Us Weekly that Kardashian and her husband chose a San Diego mom in her late 20s as their surrogate. The woman has reportedly served as a surrogate before, even appearing in a promotional video about the process with her family.
So, while Kylie being Kim's surrogate has been a pretty persistent theory (and joke), it's simply not true.
And that's not the only rumor out there.
Kylie Also Probably Didn't Give Birth Already
In late December, a video started circulating allegedly showing Kylie with her sister, Kendall Jenner, and Kylie sporting a pregnancy bump. But, that video was quickly dismissed as being nearly a year old as it was from the 2017 Golden Globes after party.
So, no. That doesn't mean that the beauty maven has already given birth. In fact, considering that Kylie's own rumored pregnancy was announced mere days before Khloe's, it's likely that she's due around the same time as her big sister, who is six months along. So if the rumors are true, Kylie is also likely due to give birth in just a couple months.
No One Knows The Rumored Baby's Sex Yet
Basically everything Kylie does on social media is sure to be analyzed more than high school English students reading The Scarlett Letter. So, obviously, when she posts a Snapchat emphasizing a blue phone case or decorates her Christmas tree in all pink, people assume that it's her sly way of revealing her baby's sex.
But, the fact of the matter is, Kylie hasn't even confirmed that she is (or isn't) expecting, so there's legitimately no way of knowing what the sex of her baby is, anyway. Seriously, people need to calm down.
She Also Hasn't Broken Up With Travis Scott
For whatever reason, multiple rumors started circulating in December that Kylie and her boyfriend (and the reported father of her rumored baby-to-be), Travis Scott, had broken up. A so-called "source" told Radar Online:
He finally plucked up the courage to tell Kylie he's done, that he loves her and will always be around for the baby, but they're not compatible as a couple. Kylie was totally blindsided even though everyone else in her life saw this coming.
But, worry not. According to People, "multiple sources" have confirmed that the couple is still together. And a photo from the Kardashian Christmas party seems to totally debunk this one, which shows Kylie and beau looking happier than ever.
Clearly, being in the spotlight isn't easy, as Kylie's own life can attest to. But, even though it's certainly exciting if she is expecting, it's important to remember that there are still a lot of unknowns, and Kylie will likely address it in her own time.
Check out Romper's new video series, Romper's Doula Diaries:
Watch full episodes of Romper's Doula Diaries on Facebook Watch.